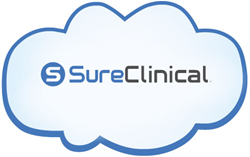 Rancho Cordova, CA (PRWEB) April 30, 2015
SureClinical, a leader in cloud-based health science applications, today announced that Julie I. Morris has joined SureClinical's executive team as Chief Financial Officer. Ms. Morris is an experienced biotech and technology executive with over 25 years in leadership roles ranging from startups to large Fortune 500 companies.
Ms. Morris joins SureClinical from Marrone Bio Innovations (MBI), a Davis, California-based ag biotech company. She was CFO of MBI from its founding in 2006 until 2011, when she assumed the role of VP Corporate Development.
While at MBI she was instrumental in raising over $70 million in capital and was an integral part of the team that completed Marrone Bio's IPO in 2013. Prior to MBI she had a 15-year career at Hewlett-Packard and Agilent Technologies in corporate development and marketing roles. Earlier in her career, she was a management consultant with Booz, Allen & Hamilton and worked as an investment banker in Madrid, Spain.
Ms. Morris will be focused on SureClinical's strategic planning, financing, operations and corporate development initiatives, including positioning the company for an IPO to support its continued worldwide growth.
Supporting Quotes
"We are building a team of top people who have successfully created and built entrepreneurial enterprises," said Zack Schmidt, CEO of SureClinical. "Julie's background in strategic planning, financing and growing technology businesses will contribute greatly to the success of the company."
"I am thrilled to join SureClinical in a key senior leadership position," said Julie Morris, CFO of SureClinical. "We have a great opportunity to deliver game-changing cloud applications for health sciences with a superior customer experience. I am very impressed with the team and look forward to contributing to SureClinical's success."
Morris holds an MBA from the Harvard Business School and a Bachelor of Science in Electrical Engineering and Computer Science from the University of California, Berkeley. She sits on the board of SARTA as well as the Center for Land Based Learning.
About SureClinical
SureClinical's eTMF application and platform for high trust digital signing helps life science organizations to accelerate the commercialization of therapies and technologies to market. SureClinical is the only company to offer validated FDA and EC compliant applications with integrated high trust digital signing and workflows to eliminate paper in clinical trials. SureClinical's network cloud application solutions enable clinical study teams to collaborate across multiple global clinical studies and multiple organizations from a single web portal. For more information, visit http://www.SureClinical.com.
Copyright © 2015 SureClinical. All rights reserved. SureClinical, SureEsign, SureTrial, Certified Cloud, SurePortal and the SureTrial logo are trademarks of SureClinical. Other names used herein may be trademarks of their respective owners.