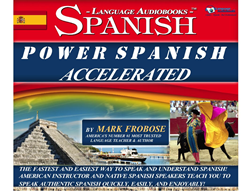 Champaign, IL (PRWEB) May 05, 2015
Andale. Cinco de Mayo is just around the corner and Mark Frobose of LanguageAudiobooks.com is already announcing a red hot video release of his new Power Spanish Verbs video on YouTube.
"Power Spanish Verbs in 2 Minutes simplifies a normally complicated subject," states LanguageAudiobooks.com founder Mark Frobose. "I take the dynamic of language learning away from boring professors and give it back to the people in a simple natural way that everyone can understand," he concludes.
Mark Frobose, who also authored Audible.com's bestselling Power Spanish Accelerated has been interviewed regularly by national media and has appeared on the Leslie Marshall Show, Dennis Miller and other top syndicated radio talk shows.
The subject? How to speak other languages quickly and easily. "That why I created "Spanish Verbs in 2 Minutes" on YouTube," explains Mark. "I want people to get excited about learning Spanish naturally during the Cinco de Mayo celebrations."
Frobose, the author of numerous audio bestsellers such as Power Spanish Conversation Intensive goes on to say that the best way to learn any language is with an "all audio" program.
"Audio goes everywhere you go, " he explains. "And so do my free YouTube lessons," he adds.
Mark's free YouTube Spanish lessons can be accessed by going to YouTube.com and searching for "Language Audiobooks" channel. Over 200 free language videos are currently available for immediate viewing on any smartphone or computer.
Language Audiobooks Inc. also specializes in downloadable digital language programs like the bestselling Power Spanish, Power French, Power Italian Accelerated which are extremely fast and easy to learn and that are immediately accessible to any smart phone or computer. The Language Audiobooks' motto is "Learn Languages Everywhere®".
The company's founder and CEO Mark Frobose is an expert language teacher who created the entire language audio line for Macmillan Audio of New York including the bestselling "Behind the Wheel Spanish" program. For over a quarter of a century, Mark has created and produced more successful audio language programs than any other living individual in the world today. His bestselling Power Spanish Accelerated is rapidly becoming the nation's favorite all-time Spanish program.
Language Audiobooks' popular Power Spanish, Power French, and Power Italian, Bite-Sized Mandarin, Conversational Latin-American Spanish, Clean French Slang and other innovative language programs are available for download now at Audible.com by typing Promo Code FROBOSE in the Search Bar.