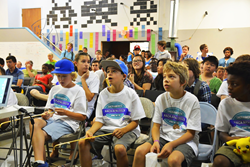 Kids are amazing creative; at the Sacapalooza youth hackathon on May 9-10, they'll have access to design tools, learn technology, work with others, develop projects and have a chance to win prizes.
Rocklin, CA (PRWEB) May 01, 2015
Hacker Lab and Sierra College are hosting Sacapalooza, a youth Hackathon from May 9 at 9 AM to May 10 at 5:30 PM at 4804 Granite Drive, Rocklin CA. Space is limited to 75 students. The fee to attend is $25. Sign up at bit.ly/1GjpxbY.
According Gina Lujan, Co-founder, Hacker Lab, Sacapalooza will inspire young people to collaborate and innovate. "Kids are amazing creative," said Lujan. "We teach them skills and give them access to tools such as 3D printers and laser cutters that they don't have at home. By working with others, they develop fun projects and it changes the way they see themselves using technology in the future."
During the action packed weekend, students will spend a day in hands-on workshops learning about coding, electronics, engineering, problem solving and entrepreneurship. They will form teams and build a project using the maker tools and computer lab at the Rocklin Hacker Lab powered by Sierra College. They'll present what they created and prizes will be awarded.
At last year's Sacapalooza, participants invented games and gadgets that entertained and solved problems. "Only kids would come up with a game of exploding burritos that could be customized with sounds and effects," said Lujan. Another group developed an app for children with autism that recognizes emotions and body language. The first prize winning team developed an Arduino Light Sensor Night Light.
Carol Pepper-Kittredge, Director, CACT, Sierra College, explained that Hacker Lab is a new community resource. "Families as well as businesses and Sierra College will benefit from having Hacker Lab in Rocklin," said Pepper-Kittredge. "Experiences like Sacapalooza will demonstrate to students the excitement, opportunities and potential impact of pursuing Science, Technology, Engineering & Math (STEM) careers."
The Grand Opening of Hacker Lab Powered by Sierra College is May 7 at 5 PM. There will be a ribbon cutting, presentations, tours and light refreshments. RSVP at: http://www.meetup.com/HackerLab/events/221560316/
Membership is open to the community with several options for using the co-working and/or maker space. Rates are available for students, individuals and families, ranging from $44.99 to $149/ month for access 24 hours per day, seven days per week. Sierra College staff, students and faculty can join Hacker Lab at discounted rates. Members can also use the mid-town Hacker Lab located at 1715 I St. in Sacramento. Many meet-ups are free, and other classes and events are priced separately.
For more information about Hacker Lab membership, teaching classes and volunteering, go to http://hackerlab.org/sierracollege/.
About Sierra College CACT
Sierra College Center for Applied Competitive Technologies (CACT) is focused on Advanced Manufacturing training and development, and is funded through the Workforce and Economic Development program of the California Community College Chancellor's Office. Since 1992, the Sierra College CACT has provided customized training for organizations, manufacturers and technology companies throughout Northern California. Through the Sierra STEM Collaborative, Sierra College works with college faculty as well as middle and high schools to promote STEM Education and careers. Additional information is available at http://www.sierracollegetraining.com and http://www.sierraschoolworks.com or contact Carol Pepper-Kittredge at 916-660-7801 or cpepper-kittredge (at)sierracollege(dot)edu.
About Hacker Lab
Established in 2012 in Sacramento, Hacker Lab aims to educate folks and spark innovation with community driven resources. Offering co-working, maker space, courses, meet-ups and events, Hacker Lab believes that technology can change the world and the starting point is education. In 2014, Hacker Lab had over 200 members; 120 completed a survey and 33 provided company data that showed: $3.7 million in revenue was generated and 75 jobs were created, and 20 start-up ventures were launched. Hacker Lab has locations in Sacramento and Rocklin. Learn more at the Hacker Lab website http://hackerlab.org/.