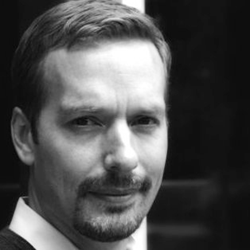 When you understand human behavior through the lens of design, true innovation is possible.
Philadelphia, PA (PRWEB) May 07, 2015
Electronic Ink, an international design consultancy based in Philadelphia, is pleased to welcome Blair Lyon as executive vice president of strategy and marketing. Blair, the founder and former CEO of TMX, will provide thoughtful leadership and coordination of company strategy and marketing functions in his new role as EVP.
"Blair brings a wealth of digital and technology marketing experience and leadership to Electronic Ink," says founder and CEO Harold Hambrose. "We are pleased to have someone with Blair's expertise joining the team as we focus on enterprise-wide design solutions."
A world-class marketer, consultant and technology expert, Blair brings over 21 years of international and domestic experience building high-tech startups and delivering award-winning design solutions for the Fortune 1000.
"I'm excited to be a part of this incredible team of researchers, designers and strategists, helping change business for the better," Blair said about his decision to join Electronic Ink. "When you understand human behavior through the lens of design, true innovation is possible. Electronic Ink wrote the book on this approach and how to apply it within the enterprise."
Prior to joining Electronic Ink, Blair was the chief marketing officer at LeadiD, bringing trust and transparency to the online lead generation marketplace. Blair was also VP of Marketing at Monetate, where he helped the company become the leader in eCommerce personalization. As founder and CEO of TMX, Blair led the company to the IAC's (Interactive Advertising Competition) Agency of the Year Award four years in a row, Forbes Best of the Web, and Ben Franklin's Top Management Team.
About Electronic Ink
Electronic Ink is the world's leading enterprise research and design consultancy for the Fortune 500. We work at the intersection of people, business and technology to transform organizations through better process and design. Clients around the globe use our design solutions to reinvigorate methods, increase sales and save money. We understand how people work.
For more information about the company, visit http://www.electronicink.com.