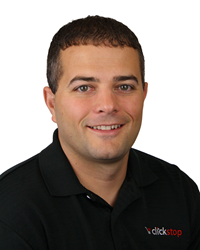 "It's an exciting time to be at Clickstop. We don't plan to slow down any time soon," Guenther added.
Urbana, Iowa (PRWEB) May 01, 2015
Clickstop will be recognized by the Corridor Business Journal (CBJ) as one of the top 25 fastest growing companies in the Cedar Rapids/Iowa City business corridor for the sixth time.
Clickstop, an e-commerce company that operates several online retailers including its flagship brand US Cargo Control, will be acknowledged during an awards breakfast at the Coralville Marriott on Tuesday, May 19th. During the event, the CBJ will announce how each business ranked in terms of growth revenue over three-years.
Clickstop initially made the list in 2009 and has been recognized as a fastest-growing company five times since. Its highest ranking was third in 2012, with a revenue growth of 199% over the three previous years. Clickstop is the only company to rank in the top five four years in a row. The company last appeared on the list in 2013, and ranked 15th.
Clickstop CEO Tim Guenther launched the company as a start-up ten years ago, selling load securement straps on his website USCargoControl.com. Guenther says his company is blessed to have experienced such tremendous success is a short amount of time, and is honored to once again receive recognition from the CBJ.
"It's great to see our name on the list again next to so many other thriving companies," Guenther said. "We have grown substantially in the last several years and are proud of how the company is evolving. We expect more great things to come."
Clickstop started with only a handful of employees and has since grown to a staff of more than 100 people. Two years ago the company began sewing and assembling tie down product for its US Cargo Control brand at company headquarters in Urbana. Since then, its customer base, product lines and manufacturing sector continue to boom.
"It's an exciting time to be at Clickstop. We don't plan to slow down any time soon," Guenther added.
###
About Clickstop, Inc.
Clickstop is the parent company of a suite of online retail stores based in Urbana, Iowa. Its focus on great workplace culture has landed the company multiple work environment-focused awards including two first place achievements as the Coolest Place to Work. Clickstop web properties serve diverse markets that include the moving and cargo control industry, energy efficient insulation products, and home organizing solutions. For more information visit Clickstop.com.
About US Cargo Control
US Cargo Control is a leader in cargo control industry, specializing in lifting slings, cargo control, rigging equipment and moving supplies. Focused on offering quality products, timely delivery, and outstanding service, customers can shop the company's entire line of products on USCargoControl.com.