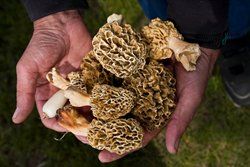 Mushrooms tend to want to grow around trees like in old Apple orchards and dead Elm trees and logs. Living White Ash and Maple are also common areas where morels may be found.
Benzonia, Michigan (PRWEB) April 30, 2015
Benzie County is one of the best locations in Michigan to find morel mushrooms starting in late April through May due to the natural environments there that are perfect places for morels to grow. Forests, riverbeds, fields, and natural paths along old railroad tracks, that are now used for hiking and biking, are just some of the locations where morel mushrooms may be found. Already morel mushrooms have been spotted in this beautiful place where forests, dunes and bluffs of the Sleeping Bear Dunes National Lakeshore and Pere Marquette State Forest offer over 100 miles of hiking and biking trails and wildlife habitats for outdoor enthusiasts and nature lovers. "Mushrooms tend to want to grow around trees like in old Apple orchards and dead Elm trees and logs. Living White Ash and Maple are also common areas", according to the Morel Mushroom Hunting Guide on visitbenzie.com.
Benzie County Visitors Bureau features a morel mushroom hunting guide. The Mesick Morel Festival located east of Benzie County on M-115 traditionally brings hundreds of visitors to Northwest Michigan. The festival will be held this year from May 8 – 10, 2015.
Benzie County is the perfect spring escape to experience nature in full bloom. Wild flowers dot the landscape, and bird watching and spring fishing are among a few of the other popular springtime activities.
The spring migration of birds builds from mid-April until early May and peaks in the middle of May with as many as 168 species being reported in one day by area bird societies and the highest bird counts reported of any other county in northern Michigan.
Steelhead and huge brown trout can be caught in the Betsie and Platte Rivers. There is also great fishing off the piers of Lake Michigan in Elberta and Frankfort.
Events taking place in Spring 2015 include fishing tournaments, a women's golf tournament, running and biking events, a unique craft art festival,and a Michigan craft beer festival.
Spring Events in Benzie County
10th Annual Michigan Beer & Brat Festival
Crystal Mountain, Thompsonville
May 23, 2015
The Michigan Beer & Brat Festival is a Memorial Day Weekend tradition at Crystal Mountain. Enjoy live entertainment while sampling over 50 of Michigan's finest microbrews, local hard cider & mead, and gourmet brats from northwest Michigan markets. This event is held outdoors, slopeside. For more information see crystalmountain.com/events/beerfest.
2nd Annual North Mitten Half Marathon & 10k
Crystal Mountain, Thompsonville
Sunday - May 24, 2015
Kick off summer with a running start at Crystal Mountain's 2nd Annual Half Marathon and 10k race! The North Mitten Half Marathon and 10k is a combination of paved roads, dirt roads and trails. The North Mitten route consists of primarily flat, open trails on Crystal Mountain property and will not climb the mountain. This is a great spring race for beginners and experienced runners! For more information see crystalmountain.com/events/north-mitten-half-marathon-10k.
Bike Benzie Fondo & Tour
Crystal Mountain, Thompsonvile
Saturday, June 6, 2015
Bike Benzie is taking on a new look this year, and a new date! Now being held in June, in addition to tour rides of 32, 60 and 100 miles, riders can also opt to participate in new Fondo to experience the challenge of a timed ride. Participants will also enjoy a Party with food and music at Crystal Mountain after the ride. For more information, see http://www.bikebenzie.org and click on "The Ride".
Frankfort Craft Fair
Frankfort
June 20, 2015
The annual Frankfort Craft Fair starts the summer season in Frankfort with unique craft art of over 75 artists. For more information see http://www.Frankfort-elberta.com or call 231-352-7251.
Michigan PGA Women's Open Pro-Am
Thompsonville – Crystal Mountain
June 26 - 28, 2015
One of the premier Michigan golfing events, The Michigan PGA Women's Open features some of the best professional and amateur women golfers from around Michigan and across the country. For more information see http://www.crystalmountain.com or call (231) 378-2000.
Michigan PGA Women's Open Tournament
Thompsonville – Crystal Mountain
June 29 – July 1, 2015
Crystal Mountain is pleased to once again welcome some of the top players in women's golf from throughout Michigan and around the country to the Mountain Ridge course for the Michigan PGA Women's Open. For more information see http://www.crystalmountain.com or call (231) 378-2000.
The Battle at the Betsie Fishing Tournament
Frankfort
June 26 - 28, 2015
Sponsored by Big Bob's Up North Outfitter & held in the port city of Frankfort. The Salmon are plentiful & consistently caught- highlights the spectacular fishing opportunity while participating in the Tournament of Trails 2015 series in Benzie County. For more information see - http://www.TournamentTrail.net or call (231) 352-5360 – or - (231) 645-8366.
More Information about Benzie County
Benzie County has unique restaurants, as well as, Stormcloud Brewing Company, a taproom and hip restaurant offering their house made brews and more, and St. Ambrose Cellars with their new tasting room for sampling award winning wines and meads. Benzie County is also in close proximity – less than one hour away - to the Leelanau and Old Mission Peninsulas, known for their wineries.
Lodging is abundant in Benzie County for visitors to experience the beauty of spring in Northern Michigan during this special time of year. Lodging choices, many with off season rates, include quaint cottages, cozy cabins, apartments, historical hotels, resorts, motels and Crystal Mountain. For more information on Benzie County lodging, restaurants, outdoor recreation and events contact Benzie County Visitors Bureau at 1-800-882-5801 or see http://www.visitbenzie.com.
Overview of Benzie County
Benzie County has the reputation as "the best place in Michigan for Outdoor Sports & Recreation" and is located only 30 minutes west of Traverse City, Michigan. With quaint vacation towns and villages such as Frankfort, Elberta, Honor, Beulah, Benzonia, Thompsonville, Lake Ann, and majestic Crystal Lake, Benzie County is a perfect setting for a relaxed getaway. Benzie County has spectacular beaches, miles of biking and walking paths, views of Lake Michigan, and plenty of great restaurants and shops as well as attractions. Perfectly situated along the Sleeping Bear National Lakeshore, Benzie County, Michigan has nearly 30 miles of Lake Michigan coastline, 57 inland lakes, hills and valleys, 22 miles for biking and hiking along the Betsie Valley Trail, and approximately 200 miles of rivers. Outdoor activities in the spring, summer and fall include fishing, golfing, biking, hiking, kayaking, paddle/space boarding and surfing to name a few.