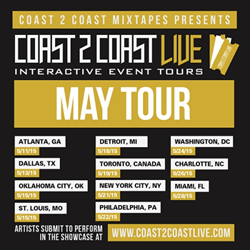 Miami, FL (PRWEB) April 30, 2015
Coast 2 Coast Mixtapes and Coast 2 Coast Live is proud to announce the May edition of their monthly "Ten City Showcase Tour". This tour will showcase independent musical talent throughout the United States. The Coast 2 Coast Live tour brings together the best celebrity judges and Hip-Hop industry professionals including DJs, A&Rs, Producers and more. Coast 2 Coast LIVE provides major artists and indie artists alike an opportunity to network and perform for prizes. Artists can submit to perform during this event at Coast 2 Coast LIVE.
Coast 2 Coast Live May 2015 tour will focus on the following cities: Atlanta, GA; Dallas, TX; Oklahoma City, OK; St. Louis, MO; Detroit, MI; New York City, NY; Philadelphia, PA, Washington, DC; Charlotte, NC; Miami, FL. In addition to the U.S., Coast 2 Coast Live will also stop through Toronto, Canada.
Each destination will feature an artist showcase that will be judged by various celebrity judges spanning the music industry. Past event judges have included Grammy winning producers, multi-platinum and Grammy nominated artists, and well respected DJs and Record Breakers.
To find out more about the Coast 2 Coast LIVE May 2015 Tour, please visit the website. Artists can submit to perform by going to http://www.coast2coastlive.com and media, DJs and models can register for free to any events at http://www.coast2coastlive.com/events
About Coast 2 Coast LIVE:
Coast 2 Coast LIVE tours in over 10 cities every month to bring indie artists major opportunities through our interactive showcase events. Artists submit via the website and get votes to perform in their city, judges critique the artists in various categories to find a winner for every city to take their music career to the next level. For more information, visit http://www.coast2coastlive.com