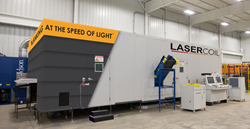 The capability and flexibility of LaserCoil's system, in combination with SET's operating experience, gives us the manufacturing agility and responsiveness to rapidly meet our customer's most complex metal processing needs.
Perrysburg, OH (PRWEB) May 05, 2015
LaserCoil Technologies LLC announced today that it has received an order for a LaserCoil coil-fed blanking system from SET Enterprises, Inc., a processor of flat rolled metal primarily for the automotive industry. The 2100-mm wide dual-head system, featuring two-6kW lasers, is being installed at the company's New Boston, Mich. facility, where SET processes blanks for the automotive industry.
"LaserCoil's solutions give SET the ability to provide their customers with superior blank quality in all grades of advanced engineered materials," said Victor Edozien, Chairman and CEO of SET. "This capability is critical in an increasingly dynamic automotive industry that is transitioning to support Advanced High Strength Steels and Aluminum alloys. The capability and flexibility of LaserCoil's system, in combination with SET's operating experience, gives us the manufacturing agility and responsiveness to rapidly meet our customers' most complex metal processing needs.
In addition to the advanced processing capabilities provided by the LaserCoil hardware, their control system and laser blanking operating system software allow us to maximize our blanking efficiency. Our lines will deliver solutions to our customers in a fraction of the time required by traditional blanking."
An additional benefit of the software programming capabilities is the ability to maximize raw material usage and reduce scrap. As automotive OEMs increase the use of Aluminum and Advanced High Strength Steels, optimizing metal processing yields and reducing scrap is a critical consideration.
LaserCoil's coil-fed laser cutting technology, featuring numerous patents, is based on over half a decade of research and successful production runs since 2012. Gantry-mounted laser heads stationed in multiple cutting cells travel along the moving strip to balance the workload for improved productivity. The system's dynamic profile conveyor features adjustable lanes that support the coil strip while automatically repositioning as needed to clear a path for the laser cut. This feature also facilitates gravity-shedding of scrap and offal, delivering only totally finished blanks at the end of the process.
This robust design enables higher production rates than other laser cutting equipment making the coil fed laser blanking system a viable alternative for processing a wide variety of coil material in aluminum, mild steel, high-strength steels and other sheet materials, in thicknesses from 0.5mm to 3.5mm and up to 2100-mm wide coil at any length.
For more information on this approach to laser cutting of coil strip, the equipment or processing of components at the LaserCoil facility visit http://www.lasercoil.com
END
About SET Enterprises
SET Enterprises, Inc. ("SET" or the "Company") headquartered in Warren, MI, is a leading provider of advanced metal processing solutions for OEMs & Tier 1 automotive customers. SET's delivers innovative customer-centric solutions from multiple, strategically located and state of the art manufacturing facilities in Michigan, Illinois, Indiana and Alabama. Founded in 1989, SET has grown from a single blanking line to processing over 800,000 tons of metals annually through 6 slitting and 14 blanking lines. SET also provides OEM customers with turn-key metal processing value chain solutions through a Total Customer Solutions platform. These solutions include material sourcing, inventory management, JIT processing and logistics.
About LaserCoil Technologies
Founded in 2011, LaserCoil Technologies LLC provides metal fabricating systems and solutions featuring advanced and patented technologies for laser cutting of blanks, based upon over five years of research and successful production runs since 2012. It originated out of the Automatic Feed Company, a known innovator in pressroom automation with nearly 65-years manufacturing expertise focused mostly on blanking and cut-to-length lines. This depth of experience provides LaserCoil the right qualifications to deliver effective and unique press feeding technology to the market, while being supported by a financially stable organization. The company holds multiple patents, including; U.S. Pat. Nos. 8253064, 8471175, 8841578, Japanese Letters Patent No. 5591831, and other patents pending.
About Automatic Feed Company
Established in 1949, Automatic Feed Company is a privately-held, leading designer and manufacturer of coil processing systems and other pressroom automation solutions. It provides turnkey capability inclusive of design, mechanical and electrical engineering, fabrication, machining, assembly and inspection as well as 24-hour customer service. It has established relationships with automotive OEMs and Tier suppliers, serving their needs across the globe. Automatic Feed Company started development of the now, LaserCoil, laser blanking in 2008.