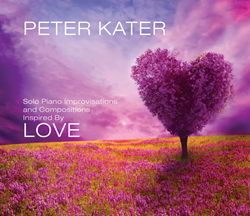 (PRWEB) May 04, 2015
With some 60 recordings in a catalog that reaches back to 1983, you might presume that pianist and composer Peter Kater had already fully explored the musical panorama of love. However, with the upcoming May 5 release of his first solo piano recording in over a decade, simply titled Love, Kater demonstrates that he has much more to express when it comes to that most delicate and capricious of emotions.
When he heard of the horrific earthquake in Nepal on April 26, Kater, who was honored with the Environmental Leadership Award by the United Nations in 1995 because of his commitment and dedication to the environment and humanitarian causes, immediately decided that the release of Love should serve a higher purpose, and, with the full support of Mysterium's Trisha Bowden, decided to donate all proceeds from the album's downloads between May 1 and May 7 to the American Nepal Medical Foundation's 2015 Earthquake Relief Fundraising Campaign. The album is currently available for pre-order at iTunes.
"In playing the piano I am able to express what is deep in my heart and soul where words fall short and seem colorless in comparison," explains Kater in the CD's liner notes. Recorded at his home studio over a period of three years, Love is comprised of 13 compositions and improvisations that explore love's many aspects: passion and tenderness, calm and turbulence, innocence and intimacy. "These are musical portraits of my heart, ripe with all the emotions, joys, complexities, excitement, pains and revelations of the various manifestations and landscapes of love," he says.
Love is Kater's fourth recording for Mysterium Music, the three year old label which offers creative production and promotion of musical works of art for healing, relaxation, rejuvenation of the mind, body, spirit and soul. Mysterium Music has been honored with multiple awards in the area of healing/meditation music, including three Grammy Award nominations. Mysterium's first release with Kater, Light Body, was also awarded Best Relaxation Meditation Album by the Zone Music Radio Awards. Light Body was followed in 2013 by Illumination, which earned Mysterium its second Grammy nomination (and Kater his ninth.) In 2014, Kater reunited with acclaimed Native American flutist R. Carlos Nakai for Ritual, their first collaboration in over ten years, resulting in a third Grammy nomination and - most recently - a nomination for Best Contemporary Instrumental Album at the Zone Music Awards, which will take place in New Orleans on May 9, where Kater will also perform and is being presented with the ZMR Lifetime Achievement award.
Ten-time Grammy Award nominee and multi-platinum selling pianist and composer Peter Kater has been a leading innovator of contemporary instrumental music for over three decades. He has performed all over the world including at the United Nations and Carnegie Hall and has released over 60 critically acclaimed CDs and scored the music for over 100 television and film productions and for eleven on and off-Broadway productions. Throughout his career, he has collaborated with many of the world's most talented musicians, actors and directors and is a proud recipient of many awards and honors including the Environment Leadership Award from the United Nations.
It all began in 1983 with the release of his first solo piano album, Spirit, on Kater's own Source Records, marking him as one of only a handful of instrumental artists spear-heading an entirely new genre of music which has now come to be categorized as New Age. After about 6 years and several national Top 10 contemporary jazz recordings, Peter made a strong and unexpected left hand turn in 1990 with Natives, his groundbreaking collaboration with R. Carlos Nakai. The duo again performed together on the award-winning Migration and on Peter's soundtrack to the 13 hour Discovery Channel mini-series, How the West Was Lost. Kater also composed the score to the film 10 Questions for the Dalai Lama, which has won over a dozen critical awards at film festivals internationally and has been seen by hundreds of thousands of moviegoers. Kater's early contemporary instrumental recordings; his visionary soundtracks for television and film and his collaborations with Native American and Tibetan artists helped create the foundation for the existence of an entirely new genre of music and some very successful and resourceful new record labels.
In 1997, realizing a need for music more appropriate to healing arts and healing therapies, Kater released his Essence and Compassion CDs as the first two records in his new Healing Series, to which he also added Ambrosia, Walk in Beauty, and Cloud Hands. He then went on to create the Elements series of recordings: Earth, Air, Fire, Water and Etheria. Kater's music for the healing arts has become a staple for many practitioners of various healing modalities and is used at spas around the world. Now, in conjunction with Trisha Bowden, vocalist and founder of Mysterium Music, he has inspired a recording label just for the creation and networking of music for the healing arts and integrative medicine, with three albums so far in use for hospice care and in cancer centers, and in the treatment of PTSD and sleep disorders among many other modalities and health care areas.
Love will be available on May 5 at Mysteriummusic.com, Peterkater.com, and at iTunes, Amazon, CD Baby, at various retail outlets and via Mysterium Music's Facebook page.