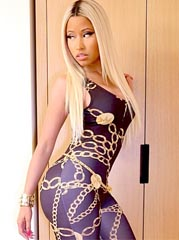 This FRPTV event is available 05.02.15 worldwide on all mobile devices, laptops and desktop computers.
Las Vegas, Nevada (PRWEB) May 02, 2015
The boxing match of the century is taking place on May 2, 2015, between Floyd Mayweather and Manny Pacquiao in Las Vegas. The official blockbuster after party will be at Paris Casino's Chateau nightclub and headlined by Nicki Minaj. Fantastic Entertainment & Jam House Live proudly presents this once in a lifetime official event. The authorized Worldcast Live PPV concert is available for purchase worldwide at Franchise Record Pool TV, officially authorized and powered by Worldcast Live, FRP TV, Rainysongs Entertainment & Media World. The event will begin at 11:59pm PST. Consumers can securely order this official Pay Per View after party event at FRPTV's website.
The Pay Per View event will also feature the extraordinary talents of Funkmaster Flex (HOT97 NYC) as the host, with special guests Jeremih, and Sevyn Streeter. The FRPTV PPV platform features include six cameras, digital quality audio and HD video, picture in picture functionality, live chat message board and ad placements. This event is once in a lifetime authorized event, so don't miss it.
Mayweather – Pacquiao After Fight Party Officially Authorized Streaming Concert will be a top-notch world class production. This streaming concert experience is powered by a team that knows the quality viewers want to see, providing them with unparalleled expertise in entertainment and digital technology. This event will be available worldwide on all mobile devices, laptops and desktop computers. Customers can feel comfortable with the PPV purchase knowing that state of the art cameras and satellites are in use with transmission signals delivered through Amazon servers, assuring everyone a superb viewing experience.
Purchase Pay Per View Event: http://www.franchiserecordpool.com/frptv