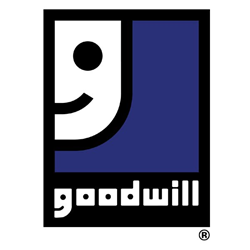 "I never thought I [would] be where I am today if I didn't have faith, God and Goodwill in my life."
(PRWEB) May 04, 2015
Archie Gibbs has faced no shortage of challenges in his life, yet he always perseveres.
When he was 7 years old, he awoke one morning to discover he had no hearing in his left ear and minimal hearing in his right ear. At 12, he entered foster care after his mother's boyfriend abused him and his siblings. He stayed in the foster care system throughout his teens and worked various jobs throughout high school to save for college and be successful. Unfortunately, a lack of enough money and transportation kept him from his college dream.
Although his early life was challenging, Gibbs has achieved great things. And, due to his fighting spirit, Goodwill is proud to announce Gibbs as its 2015 Kenneth Shaw Graduate of the Year.
"My life journey is as long as the yellow brick road," Gibbs said. "I left home at the age of 12…when my mother's boyfriend abused me and my seven brothers and sisters. Being the oldest of eight, I never thought I [would] be where I am today if I didn't have faith, God and Goodwill in my life."
Gibbs first arrived at Goodwill Industries of Middle Georgia and the CSRA (Macon) in 1998, looking for help in finding a new job and direction in life. He arrived that day on foot, because that was his only means of transportation. Gibbs soon found a place in Goodwill's custodial service training program and became a valuable and trusted member of the Goodwill custodial staff. He was named the Graduate of the Year by the local Goodwill agency in 1999, and later named Exemplary Employee of the Year by the city of Macon.
In nominating Gibbs for the Graduate of the Year award, James Stiff, president and CEO of Goodwill Industries of Middle Georgia and the CSRA, praised him for his tenacity. When Gibbs first walked into Goodwill's career center, Stiff wrote that he "lacked direction and focus — but he more than made up for it in his desire to learn and his passion to build a career despite his disability and disadvantaged background."
To no one's surprise, Gibbs has moved on to fulfill his great promise. He and his wife, Chericah, now have their own business, Coleman Cleaning Service. They provide a variety of services, including residential and office cleaning, floor maintenance, carpet cleaning, painting and lawn maintenance. For Gibbs, the key to their company's success is simple: "We work hard and take pride in our work." The company clearly reflects the way Gibbs lives his life.
Gibbs will receive his award at Goodwill Industries International's annual Delegate Assembly conference in June.
Goodwill Industries International's Kenneth Shaw Graduate of the Year Award honors an outstanding person for completing a Goodwill Industries® career program and becoming competitively employed by a non-Goodwill employer in the community. The award was renamed in 2008 to honor the late Kenneth Shaw's significant contributions to the Goodwill enterprise over a four-decade period.
About Goodwill Industries International
Goodwill Industries International is a network of 165 autonomous community-based agencies in the United States and Canada with a presence in 14 other countries. Goodwill is one of America's top 20 most inspiring companies (Forbes, 2014). Goodwill agencies are innovative and sustainable social enterprises that fund job placement programs and other community-based services by selling donated clothing and household items in more than 3,000 stores and online at shopgoodwill.com®. Local Goodwill agencies also build revenue and create jobs by contracting with businesses and government to provide a wide range of commercial services, including packaging and assembly, food services preparation, and document imaging and shredding. In 2013, more than 9.8 million people in the United States and Canada benefited from Goodwill's career services. To learn more, visit goodwill.org.
To find a Goodwill location near you, use the online locator at Goodwill.org or call (800) GOODWILL. Follow us on Twitter: @GoodwillIntl and @GoodwillCapHill, and find us on Facebook: GoodwillIntl
To learn more about Goodwill Industries of Middle Georgia, Inc., visit http://www.goodwillworks.org and http://www.helms.edu.