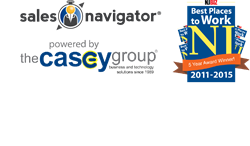 "Most importantly for our clients, our culture reinforces a customer first mindset that produces consistently outstanding performance for them." - Richard Casey, CEO and Chairman of The Casey Group
Parsippany, NJ (PRWEB) May 06, 2015
What is better than being named a Best Place to Work in NJ for five consecutive years? The Casey Group can tell you as it has achieved that distinction and then topped it off as being named the #1 Best Place to Work in NJ 2015 among small/medium companies in the Garden State.
When Jerry Auriemma, the company's Chief Marketing Officer, was seated at a front row table at the NJ BIZ Event on April 30 honoring the 2015 Best Place to Work winners he found himself with event sponsors and keynote speaker, Lieutenant Governor of NJ, Kim Guadagno. He was surprised and excited to be with such distinguished guests. At that point, he didn't suspect that the evening was going to get even better.
As each of the winning companies was called to accept their awards, Auriemma got increasingly excited as the list was down to the top five in the state. When The Casey Group was announced as #1 in the state, Auriemma said it was both exhilarating and an honor to accept the award on behalf of the people in The Casey Group that made the award possible.
Richard Casey, the company's Chief Executive Officer and Chairman offered the following comments about the award, "While I am extremely proud that The Casey Group has been named the # 1 Best Place to Work in NJ for 2015, it is even more gratifying to be a winner for five consecutive years because it demonstrates that we have created an enduring company culture that fosters teamwork and innovation. Most importantly for our clients, our culture reinforces a customer first mindset that produces consistently outstanding performance for them." "Our Company strength lies within our technology professionals who have the depth and breadth of education and experience to advise, recommend, architect, implement and manage projects of all sizes, complexity, and duration," added Casey.
About The Casey Group
For over 25 years, The Casey Group has been specializing in helping companies of all sizes including the Fortune 500 to use technology more effectively. The company has deep enterprise experience on a variety of technology platforms/areas including IBM Power Systems, Mainframes, Java/JEE, legacy modernization, Microsoft, Amazon Cloud (AWS), CRM systems such as Salesforce and Oracle, Apple iOS and more. The range of services include application development/management, systems integration, production support, software development, managed IT services, and mobility and cloud services.
The Casey Group has an award winning culture and customer first mindset as evidenced by its being named a Best Place to Work in NJ for five consecutive years (2011-2015). Sales Navigator, the company's geo centric sales tool, has also received multiple awards at events such as CES, Silicon Valley Business Awards, and Top 5 Tabby Awards for Sales and Business productivity. It is available in the App Store, Salesforce AppExchange, and Oracle Sales Cloud marketplace.
The Casey Group's key partnerships include being a Microsoft Partner, IBM Partner, Salesforce ISV partner, and Oracle Gold Partner. The company is a Business Cabinet member of the Morris County Chamber of Commerce, a founding member of the NJ Technology Council, a member of the NJ State Chamber of Commerce and a registered New Jersey Small Business Enterprise.