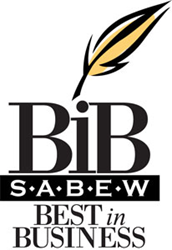 New York, NY (PRWEB) May 04, 2015
SourceMedia's Financial Planning and Bank Investment Consultant have won the Society of American Business Editors and Writers' Best in Business awards in the categories of Investigative and Explanatory journalism.
Financial Planning, the leading source of analysis and news for independent advisors, won the Investigative Journalism award for magazines with circulations of more than 100,000 for its special report titled "Could Financial Planning Help Stem the Rate of Military Suicides?" Bank Investment Consultant, the information resource for bank-based wealth managers, received the Explanatory Journalism award for magazines with circulations of less than 100,000 for its article titled Dementia: The Growing Retirement Risk.
The SABEW Awards recognize excellence in business and financial journalism in digital, print and broadcast among the nation's leading news organizations. The awards were presented April 25, during SABEW's 52nd annual conference in Chicago.
The Financial Planning article, by Senior Editor Ann Marsh, revealed financial distress to be an overlooked but leading factor in military suicides. Marsh uncovered Defense Department statistics that showed a majority of military suicide victims never saw combat or even deployed off their bases. Because of the findings, published in May 2014, the House of Representatives passed a bill directing the military to study ways to deliver more effective financial planning to those at risk. In December 2014, that measure was included in the overall budget legislation approved by Congress and signed into law by President Obama.
"This investigation demonstrates how proper financial advice can be potentially life-saving for America's armed forces," said Scott Wenger, a SourceMedia Group Editorial Director and editor of the report. Marsh, Wenger and Contributing Editor Kamrhan Farwell were named as winners of the SABEW award.
The report has won several other journalism awards this year, including an American Business Media Jesse H. Neal Award for Best Single Article.
The Bank Investment Consultant article, by Associate Editor Margarida Correia and edited by Editor Lee Conrad, found that while Americans don't typically want to talk about dementia, it's a conversation many people — and their financial advisors — need to have. Correia's report, published in September 2014, found that a rising number of bank advisors were concerned about their clients' cognitive decline and the risk of throwing their clients' families into financial chaos. Correia laid out the complicated legal issues and provided guidelines for how bank financial consultants should work with clients and their families.
SourceMedia Chief Content Officer David Longobardi said: "These two SABEW awards represent SourceMedia at its best - delivering on our promise to inform our specialized professional audiences, while pursuing excellence in journalism and helping the industries themselves achieve excellence."
ABOUT FINANCIAL PLANNING
Financial Planning is the leading resource for independent financial advisors, delivering the analysis, strategies and data advisors need to successfully grow their practices. Follow us on Twitter @FinPlan.
ABOUT BANK INVESTMENT CONSULTANT
Bank Investment Consultant is the dedicated resource for bank-based financial advisors and wealth managers, providing targeted analysis and insight these advisors need to make smart investment decisions, better serve retail clients and achieve performance goals. Follow us on Twitter @BIConline.
ABOUT SOURCEMEDIA
SourceMedia, an Observer Capital company, is a diversified business-to-business digital media, marketing services, research and event company serving senior professionals in the financial, technology and healthcare sectors. Brands include American Banker, The Bond Buyer, Financial Planning, On Wall Street, Mergers & Acquisitions, Accounting Today, Bank Investment Consultant, Health Data Management and Employee Benefit News.