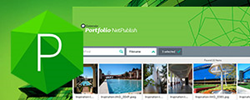 Northampton, UK (PRWEB UK) 5 May 2015
Extensis announced today that University College Birmingham (UCB) is using Extensis Portfolio and Portfolio NetPublish as their digital asset management solution.
With its origins dating back to the late nineteenth century, the University's collection of digital assets soars in the thousands. Without a system in place, the institution was losing time and money trying to find and share digital assets across its departments. Finding a DAM system to centralise and distribute their assets became critical to UCB efficiency.
In a case study published today, UCB shares how their marketing department is using Extensis Portfolio to:

Centralise their entire digital asset collection
Catalogue and tag their assets in many different ways so they are easy to locate
Quickly inventory what assets they do and do not have, so they can identify where they are lacking in up-to-date images
Easily share digital assets with other departments on the web with Portfolio NetPublish, Portfolio's module for quickly creating secure and dynamic websites for sharing assets
Since deploying Extensis Portfolio, UCB has saved countless hours by having a central location for storing and sharing its assets between departments. To learn more about UCB's success with Extensis Portfolio, check out their case study here.
UCB is among hundreds of organisations using Extensis Portfolio to manage its digital assets. Customers in the UK include the Royal College of Art; Newcastle University or University of Glasgow, together with a high number of international institutions such as Yale University; Harvard Law School and MIT (Massachusetts Institute of Technology).
To learn more about Extensis Portfolio, click here. To learn about using Extensis Portfolio within higher education institutions, click here.
About Extensis
Celebrating 20 years in business, Extensis® is a leading developer of software and services for creative professionals and workgroups. Their solutions streamline workflows, securely manage digital assets and fonts, and control corporate typographic branding. Used by hundreds of Fortune 5000 companies, Extensis' award-winning server, desktop, and web service products include: Portfolio Server® for digital asset management, Universal Type Server® for server-based font management, Suitcase Fusion™ for single-user font management, and the WebINK® web font rental service. Founded in 1993, Extensis is based in Portland, Oregon, and the United Kingdom. For additional information, visit http://www.extensis.com
© Celartem, Inc. d.b.a. Extensis All rights reserved. EXTENSIS, WebINK, and Suitcase Fusion are trademarks or registered trademarks of Extensis in the United States of America, Canada, the European Union and/or other countries. This list of trademarks is not exhaustive. Other trademarks, registered trademarks, product names, company names, brands and service names mentioned herein are property of Extensis or other respective owners.