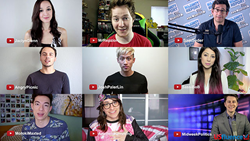 I am very selective about sharing my political views with my audience," said Arielle Scarcella. "But when something as important as this comes up I just can't sit on the sidelines and hope for the best
New York, NY (PRWEB) May 04, 2015
Over a dozen YouTube stars have joined forces in a first-of-its-kind campaign to change the projected outcome of a U.S. election, urging voters in Staten Island and Brooklyn to cast their ballots in a special Congressional election Tuesday against the frontrunner, Republican District Attorney Dan Donovan who last year failed to convince a grand jury to indict the New York City police officer blamed for the chokehold death of Eric Garner, an unarmed black man.
In the wake of riots in Baltimore last week over the police killing of Freddie Gray, yet another unarmed black man, 13 YouTube personalities with a combined total of 3.7 million subscribers and 40 million monthly views, appeared in the YouTube ad urging members of New York's 11th Congressional District to vote for Democratic City Councilman Vincent Gentile in the special election to replace disgraced Republican Congressman Michael Grimm, who resigned in January after pleading guilty to tax fraud.
The ad, starring Josh Paler Lin, Arielle Scarcella and Jaclyn Glenn, among others, was organized by USfluence, a leading non-partisan digital media company that specializes in connecting YouTube influencers with highly relevant causes, campaigns and candidates. While numerous YouTubers have appeared in commercials and PSAs for brands and causes, and three interviewed President Obama live shortly after this year's State of the Union address, this is the first ad in which YouTubers attempt to influence the outcome of a U.S. election.
"YouTubers have a relationship with their fans that is authentic, highly personal, hugely influential and incredibly effective at driving action," said Ryan Yudell, Managing Director for USfluence. "They believe police abuse of power and the subsequent political cover ups have gotten out of control. They believe Dan Donovan didn't do his job as District Attorney to stand up for the citizens of the 11th District and they absolutely don't want to see him promoted to Congress."
The YouTube commercial, paid for by the Unifying America PAC, features popular YouTube personalities from within and outside of New York's 11th Congressional District. Most have large fan bases of regular viewers who often see the personalities they watch on YouTube as an extension of their own friendships in real life.
"I am very selective about sharing my political views with my audience," said Arielle Scarcella. "But when something as important as this comes up I just can't sit on the sidelines and hope for the best. As Americans we have a right to expect fairness from the police and those in charge of making sure they are doing the right thing. Donovan didn't do that and doesn't belong in Congress. He failed us as a District Attorney and I hope my fans in the district vote against him on Tuesday." Other YouTube channels featured in the ad are TheLip TV, MidweekPolitics, AverageBroTV, MrRepzion, Angry Picnic, SamSeder, SassiBoB, MotokiMaxted, studzlife101 and littlemisspaigexxx.
In the #itsgottostop video ad, the YouTube personalities from across the country take turns in making an impassioned plea to 11th Congressional District voters. "Eric Garner was choked to death by a New York police officer. The cop was never charged because this man, your district attorney, refused to do his job … The way things look right now, Dan Donovan is going to win. If you do nothing, he's going to win. … You could literally change the election and show the world the police must be accountable. On May 5th, do your job and vote against Dan Donovan."
The ad has so far been viewed 103,000 times by YouTube viewers in New York but that number is expected to rise significantly before the polls close Tuesday evening. The entire population of the 11th Congressional District is 724,434, according to Ballotpedia, and USfluence estimates that just over 310,000 people in the district are YouTube viewers over 18 and eligible to vote. Roughly 22,550 people are expected to vote in the special election with a voter turnout of only 20 percent anticipated in an off-election year.
Current polling puts Donovan ahead of Gentile by just hundreds of votes. The district, which has more registered Democrats than Republicans, tends to vote Republican in Congressional elections. In 2014, Grimm won his seat by a five percent margin.
USfluence expects its network of thousands of YouTube stars to participate heavily in the 2015 local political races, which include many ballot initiatives, leading into the 2016 election, where $6 billion is expected to be raised and spent by candidates and causes. The network has the ability to target ads locally, regionally, nationally and even globally, and reach very precise audiences.
USfluence is a leading digital media company, based in Sherman Oaks, Calif., specializing in connecting thousands of YouTube influencers and their billions of highly sought after viewers around the world with relevant causes, campaigns and candidates.