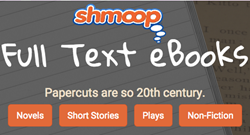 Shmoop encourages students to engage directly with the books that they're reading
Mountain View, California (PRWEB) May 05, 2015
Students may be able to read Dickens on their iPads, but what happens when they can't understand the gobbledygook that is 19th-century British literature? What if they could just click on a paragraph and read it in human English? Shmoop University (http://www.shmoop.com), a digital publisher aiming to make learning fun, has just made that possible.
Shmoop has released the full texts of classic novels, plays, and short stories found on every high school syllabus. Students can read the texts in their entirety—right on Shmoop—and if they come up against a challenging passage, they'll be directed to explanatory summaries and close-reading analysis of the quote. If a student needs help dissecting a bearded Tolstoy character or understanding Upton Sinclair's meaty themes, Shmoop's integrated learning guides will fill in the holes with everything from character and symbol analyses to interactive reading quizzes. No need to dig very far, either: these nuggets and more can be found right alongside the full text.
"Unlike many cheat sites that just give students the answers and move on, Shmoop encourages students to engage directly with the books that they're reading," says David Siminoff, founder of Shmoop. "Now students can use Shmoop as the one-stop shop for reading and analyzing their assigned texts."
Whether students are tackling Jane Austen, Oscar Wilde, Frederick Douglass, or just a particularly rich Edgar Allan Poe short story, Shmoop will make sure they pick up what these authors are putting down—without getting a papercut in the process.
About Shmoop
Shmoop is a digital curriculum and test prep company that makes fun, rigorous learning and teaching resources. Shmoop content is written by experts and teachers, who collaborate to create high-quality and engaging materials for teachers and students. Shmoop Courses, Test Prep, Teaching Guides, and Learning Guides balance a teen-friendly, approachable style with academically rigorous concepts. Shmoop sees 11 million unique visitors a month on its site and offers more than 7,000 titles across the Web, iPhone, Android devices, iPad, Kindle, Nook, and Sony Reader. The company has been honored twice by the Webby Awards, named "Best in Tech" twice by Scholastic Administrator, and awarded Annual Education Software Review Awards (EDDIES) three years in a row. Launched in 2008, Shmoop is headquartered in a labradoodle-patrolled office in Mountain View, California.