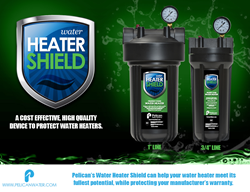 A cost effective, high quality device to protect water heaters.
Deland, Florida (PRWEB) May 11, 2015
Everyone has a hot water heater, but not everyone is aware of how to operate their system at the fullest potential and protect their manufacturer's warranty.
Pelican Water is proud to introduce the new Water Heater Shield for the homeowner. The Pelican Water Heater Shield is equipped with a five micron high-efficiency, high-performing filter to remove dirt, rust, and sediment buildup, while the Sliphos® media within the filter chamber prevents scale and stops corrosion within the water heater. Easily installed inside or outside of the home on the feed water line prior to the water heater, the Water Heater Shield is compatible with both tank-type and tankless water heaters. A high-quality, liquid-filled pressure gauge is included to monitor pressure loss, which can indicate the need for a filter change. Also, a pressure relief button on the side of the cap is included to make filter changes quick and easy for the end-user.
With more than 85% of homes in the US being supplied hard water, it is no surprise that scale build-up is a common problem for many homeowners. Consider that for every 1mm build-up on a heating coil, a homeowner can pay an estimated 15% additional in energy costs each year, making the Water Heater Shield a long-term investment.
You can learn more and purchase your Pelican Water heater shield online at http://www.pelicanwater.com.
About Pelican Water Systems
PelicanWater.com is the official, factory-direct retail website for Pelican Water Systems, providing professional knowledge and leading technologies in whole house water filtration, countertop water filtration systems, UV bacteria disinfection systems, as well as salt-free water softening and conditioning systems. Pelican Water products use cutting-edge technology and enable customers to go green by eliminating wasteful and harmful salt brine discharge that is polluting our valuable fresh water resources.
For over a decade, Pelican Water has stayed true to their mission statement: being a company that helps families enjoy cleaner, safer, better-tasting water in their homes in an environmentally-friendly way. Pelican Water has been and continues to be the global market leader in salt-free water softening system. For more information about Pelican Water Systems, visit PelicanWater.com.