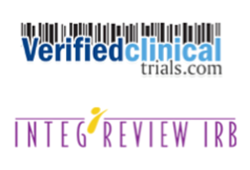 Integreview IRB and Verified Clinical Trials are dedicated to promoting clinical trial safety and improved data quality
Garden City, New York (PRWEB) May 20, 2015
Verified Clinical Trials (VCT) is the leading North American research subject clinical trials database registry that not only prevents dual enrollment in clinical trials by research subjects but also helps avoid other significant protocol deviations in clinical research trials. Integreview IRB is an ethical review board / independent institutional review board that's dedicated to providing unsurpassed ethical review services for research conducted in the United States, Canada and Latin America. By working together in a strategic partnership, Verified Clinical Trials (VCT), and Integreview IRB have created a new workflow to improve and accelerate use of the VCT authorization form. Ultimately the process is designed to promote research subject safety and improve data quality. The new process employs VCT's research subject database at the research site level. The two companies have developed a research subject authorization form to be utilized by research site staff, when utilizing Verified Clinical Trials' services.
Verified Clinical Trials allows the research site staff to check multiple inclusion or exclusion criteria such as concurrent enrollment, prior compound exposure, half-life violations or current screening at another site immediately following consent and authorization form execution. Integreview IRB offers a web-page on their company website for expedited review of the authorization form allowing easy access. This process results in both cost and time-savings.
"Integreview IRB and Verified Clinical Trials are dedicated to promoting clinical trial safety and improved data quality" stated Kerri Weingard COO of Verified Clinical Trials. Ms. Weingard added, "After consent, Verified Clinical Trials is able to look into the research subject's study history across the entire VCT database and provide answers to the site staff on those previously unknown details surrounding a research subject's prior study history and eligibility based on the intended protocol's criteria. Prior to Verified Clinical Trials site staff were not able to truly accomplish this".
Mitchell Efros, MD FACS & CEO stated "Verified Clinical Trials is now the sole system used in the great majority of early phase units in North America as well as late phase site to prevent duplicate enrollment in clinical trials. We have created an even smoother process for our research site users. We congratulate Integreview IRB for understanding the need for an ID-metric HIPAA compliant research subject database. Integreview IRB has taken action and helped enable a simplified expedited process to a much needed solution."
About Integreview IRB
About Integreview IRB - IntegReview IRB is an independent institutional review board that has been formally designated to review, approve, and conduct periodic review of biomedical, medical device, social, educational and behavioral research involving human subjects in the United States, Latin America and Canada.
Integreview IRB is dedicated to providing unsurpassed ethical review services. The ethical principles employed by IntegReview IRB that govern the conduct of human research are those identified in the Belmont Report: respect for persons, beneficence and justice.
IntegReview is also known as an independent ethics committee (IEC) or ethical review board (ERB).
The Food and Drug Administration (FDA), Office for Human Research Protections (OHRP) and Health Canada regulations have empowered IRBs to approve, require modifications in planned research prior to approval, or disapprove research. IRBs are responsible for critical oversight functions for research conducted on human subjects that are scientific, ethical, and regulatory.
Integreview IRB complies with the regulations as defined in the United States Food and Drug Administration (FDA), Code of Federal Regulations, Title 21, Parts 50, 54, 56, 312 and 812, International Conference on Harmonisation (ICH) Guidelines for Good Clinical Practices, E6, the Department of Health and Human Services (DHHS) regulations as identified in the Code of Federal Regulations, Title 45, Part 46, other regulations as applicable, as well as local and state laws.
In November 2011, Integreview IRB established a Canadian Research Ethics Board (REB) to review research conducted in Canada in accordance with Health Canada's Division 5, the TCPS 2 – 2nd Edition Tri-Council Policy Statement and the ICH Guidelines for Good Clinical Practice.
About Verified Clinical Trials:
Verified Clinical Trials is a forward thinking company developed by experts active in the clinical research community to proactively improve research subject safety and data quality in clinical research trials. Verified Clinical Trials halts dual enrollment and prevents several significant protocol deviations in clinical trials. Verified Clinical Trials is the only clinical research database registry designed specifically to enhance the quality of both early and late phase trials in all disease entities and has the scalability to reach all sites nationally as well as on a global level. Verified Clinical Trials offers numerous other value added services to the clinical research site, CRO, and Pharmaceutical Sponsor.