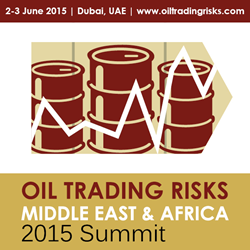 It's an IRN Summit!
London (PRWEB UK) 6 May 2015
Oil companies are currently confronting the industry's worst slump since the financial crisis of 2008 with the low oil prices. Volatility has increased dramatically over the last months; after peaking at $115 a barrel last June, oil prices have dropped by more than 50%. This trend together with changing currency rates (crude oil prices have recently rebounded on the weaker dollar), have a direct impact on the profit that oil trading companies are able to generate.
The Oil Trading Risks Middle East & Africa 2015 Summit, organised by IRN on 2-3 June at The Meydan Dubai, will analyse these challenges through focused sessions on CTRM systems and price mitigation measures. This conference will also look at the financial risks oil companies face, addressing currency and interest rate risks as well as hedging strategies to help mitigate them.
Expert speakers at the Summit include senior representatives from ENOC, National Bank of Abu Dhabi, Etihad Airways, Petro China, Shell, Oando, The Oil & Gas Holding Company (nogaholding), AVES, Turkish Airlines, Hess Energy Trading Co. (HETCO), Bharat Petroleum Corporation Limited, Golden Crown, Dragon Oil, Ikon Petroleum, Control Riks and many others, who will share best practices with the audience on how to minimise risks at a very crucial time for the oil industry.
The Oil Trading Risks Middle East & Africa 2015 Summit is sponsored by the software solutions and consulting services provider, ComFin; and the provider of commodity trading and risk management software, Allegro.
More information about the Summit, Speakers and the Agenda can be found on the website: http://www.oiltradingrisks.com