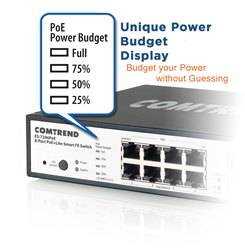 Irvine, CA (PRWEB) May 05, 2015
Comtrend, a global supplier of advanced networking solutions, announced the launch of their new 5-Port and 8-Port PoE+ Gigabit Switches, the ES-7201PoE and ES-7211PoE respectively. These 5 and 8-Port Gigabit Ethernet Switches feature a unique power budget display feature. This feature allows VARS/installers to better troubleshoot and plan ahead when installing PoE-based solutions.
Standard PoE+ switches allow you to pass data and power simultaneously to a PoE enabled device. Additionally, Comtrend's 5 and 8-Port PoE+ Gigabit Switches allow you to see how much power is being used by the sum of all attached PoE devices relative to the total amount available. This enables better troubleshooting with immediate visual feedback. For example, if a PoE camera is installed, but not working, the VAR/installer can rule out exceeding the power available, otherwise known as being "over budget." This unique power budget display allows on-the-fly changes of equipment without consulting each device's power specifications. This functionality reduces installation time and related expense.
Product Manager at Comtrend North America, Richard Castreje, states "Comtrend is proud to launch an innovative product that appeals to common sense. The power budget display should be a standard requirement in this type of device. We aim to be the go-to company for PoE products and these two models (ES-7201PoE & ES-7211PoE) are an integral part of this growing family of Comtrend PoE products".
Suitable for high-powered devices, these PoE+ Gigabit Switches supply up to 30 watts of power per port, one of the highest in the market today, as well as supporting IEEE 802.3af & 802.3at standards.
Availability
The ES-7201PoE and ES-7211PoE are currently available to sample with general availability by July. To request samples please speak to your sales representative or email NA.Sales(at)Comtrend(dot)com.
About Comtrend
Since 1990, Comtrend has become one of the leading global providers of advanced networking solutions. Totaling more than 25 million CPE deployed globally, Comtrend is the technology partner of choice for carriers worldwide. Comtrend designs, manufactures, and markets a wide range of networking equipment consisting of bonded A/VDSL2, as well as home and office networking technologies. Bringing value to consumers through our service provider customers across the world, Comtrend is committed to industry standards, interoperability and market-leading performance. The company has its North American headquarters in Irvine, California. For more information please visit http://www.comtrend.com.