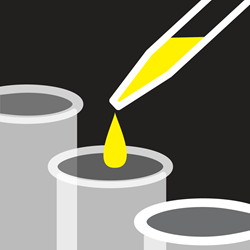 Lab technicians are an invaluable part of medical care, and we made this app so that they can benefit from the same kinds of resources already available to nurses and medical students
Boston, MA (PRWEB) May 19, 2015
Test prep leader Upward Mobility announced today the availability of its new Histotechnician Exam Prep app, complementing its existing line of study aids in the health services field with a more laboratory-focused field of study. The app is available on iTunes for iPhone, iPad, and Mac; Google Play for Android; Amazon Kindle; Windows 8 and Windows Phone; and Nook.
The app functions as a study tool for students seeking certification as a histotechnician or other related medical laboratory sciences by the American Society for Clinical Pathology (ASCP). A professional histotechnician prepares tissue samples for laboratory analysis to aid in the diagnosis of diseases and research. All the topics presented on the certification exam are covered in the app, including fixation, processing and embedding, microtomy, staining, and general laboratory operations.
"We are excited to once again expand our offerings in the health care professional field with this app," said Victoria Slingerland, President and co-founder of Upward Mobility. "Lab technicians are an invaluable part of medical care, even if patients never see them face-to-face. We made this app so that students of histology and other medical pathology professions can benefit from the same kinds of resources already available to nurses and med students."
A total of 300 questions written by medical experts exclusively for Upward Mobility are available to test students' knowledge of histology procedures. Additionally, the app contains two different customizable modes: Study Mode is performed at the student's pace and provides answers with explanations to aid in the student's learning, while Test Mode allows the user to set their own time and question constraints to simulate the testing environment.
Upward Mobility is a test prep app enterprise based in Boston, and is a 100% woman and minority-owned business (SOWMBA-certified). Upward Mobility prides itself on providing free and low-cost test prep for over 150 professional and academic standardized exams, including high school and college admissions tests, IT certification exams, business and professional development exams, teaching exams, and medical board exams.