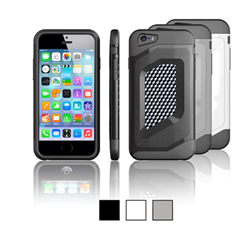 This phone case features a durable three-piece construction using matte finish TPU, textured polycarbonate, and a carbon fiber insert.
Chicago, IL (PRWEB) May 15, 2015
Chicago-based tech supplier Sunrise Hitek is pleased to introduce their new Signature Case for the iPhone 6 and 6 Plus with a super thin profile (https://www.sunrisehitek.com/product/signature-iphone-6-plus). This case is one of the most rugged and durable phone cases available. This case is sleek, yet sturdy enough to handle the toughest wear and tear. Simple three-piece construction uses matte finish TPU and textured polycarbonate, which protects the phone from all angles, sides, and corners while providing full access to all ports, buttons, and controls. The carbon fiber insert can be substituted with any full color logo artwork and bulk discounts are available for corporate deployment. These exclusive Signature cases for the iPhone 6 and 6 Plus from Sunrise Hitek are shipping now in color choices of white, black and gray.
About Sunrise Hitek
Sunrise Hitek's üuber store, formerly known as iGear, is a leading maker of protective gear for Apple's iPad. The brand changed to üuber when the company started developing cases for other devices, such as the MacBook, Chromebook, and Samsung devices. Sunrise Hitek Group, LLC, owner of the üuber brand, also operates Sunrise Digital, a leading digital printing company based in Chicago. As a G7 Qualified Master Printer, Sunrise is uniquely qualified among protective gear makers to offer a wide array of customization options, ensuring the most consistent and accurate color reproduction. Sunrise is an Inc. 5000 company established in 1988 and employs the most advanced equipment and technology, such as G7-certified HP Indigo and UV flatbed presses, and digital die-cutting, to create best-in-class products. A privately-owned enterprise, the company is based in Chicago and sells products worldwide.