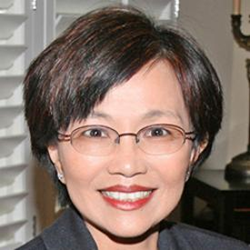 "Over and over again in client reviews, you see precisely what we see as peers and friends of Lily and her team, an incredible level of dedication to individual buyer and sellers that exceeds their expectations," said Mark Hughes, COO, First Team
Irvine, CA (PRWEB) May 11, 2015
First Team Real Estate announced recently that nationally recognized agent Lily Campbell has been awarded its Team Diamond Medallion for 2014 sales performance in completing 118 home sales valued at $80.7 million dollars and for remaining the top real estate agent in Fountain Valley for fourteen years straight.
"Over and over again in client reviews, you see precisely what we see as peers and friends of Lily and her team, an incredible level of dedication to individual buyer and sellers that exceeds their expectations," said Mark Hughes, Chief Operating Officer, First Team Real Estate. "Her record of success speaks volumes about her ability to guide people faithfully through the sales process to find the right home or buyer for them."
Lily Campbell's client reviews make it clear that her incredible attention to the needs of buyers and sellers are a strong part of her success. They include these anecdotes: "We came to Lily with high expectations and she fulfilled every one of them"; and, "...the house drew dozens of offers the first week and sold well above the original listing price."
"Lily and her team have proven time and again that they find values and unleash potential for buyers and sellers in ways no one else saw," said MaryAnn Cardullo, Office Manager for First Team Real Estate's Huntington Beach South office. "Their consummate professionalism and care for people's needs is clear from every member of her team."
Having taught at the university level and worked in international business, Lily has drawn upon that experience to build one of Orange County real estate's most remarkable teams.
"Helping people understand the value of their home and sell for a price higher than even they thought possible or to find that right house is always rewarding to me," explained Lily Campbell. "We have been able to build a track record of success by listening to the needs each buyer or seller brings to the table and then working with them to exceed their expectations."
For more information on Lily Campbell and her team go to http://ow.ly/La2W7 or call her directly at (714) 717-5095.
ABOUT FIRST TEAM REAL ESTATE
Growing from a single office in Huntington Beach, CA in 1976, First Team Real Estate is now Southern California's largest and most trusted private real estate agency with offices across California. In 2011, 2012, 2013 and now 2014, First Team has been recognized as Best Real Estate Company by the annual Orange County Register survey of 100,000 Southern California households. We can be reached at (888) 236-1943 and at firstteam.com.