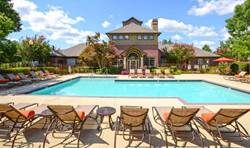 (PRWEB) May 08, 2015
JMG Realty, Inc. today announced the formation of a strategic partnership with EBSCO Income Properties, LLC: JMG will handle the day-to-day management of the EBSCO Income Properties current multi-family portfolio and any future multi-family acquisitions. The current portfolio consists of 10 properties located in Alabama, Georgia, North Carolina, South Carolina and Tennessee totaling 2,726 apartment homes.
ABOUT JMG Realty, Inc.
Headquartered in Atlanta, GA for more than two decades, JMG Realty, Inc. has operated as a fully disciplined real estate company, concentrating in the redevelopment, financial services and management of multi-family real estate properties. The firm currently manages over $2.5 billion in assets and 25,000 units across the United States. Defined by Integrity, Trust and Ethics, JMG Realty continues to influence the multi-family industry by delivering on the experience of team members and a record of award-winning performance. JMG Realty is proud to hold the distinction of being an Accredited Management Organization® (AMO). This designation is awarded only to property management organizations meeting the highest standards of ability and integrity established by the Institute of Real Estate Management and in 2013, IREM recognized JMG Realty, Inc. as the AMO of the year for the state of Georgia!
ABOUT EBSCO Income Properties, LLC
EBSCO Income Properties, LLC, led by Vice President and General Manager Leslie Yeilding, is broadening EBSCO's real estate presence by building a portfolio of multi-family assets. EBSCO's principal business objective is to invest in multi-family assets through acquisitions and to achieve the greatest total rate of return with the lowest possible risk from their investments through acquisitions, value creation, management operations, and debt/capital markets focus. Assets will primarily include existing properties built in the 1990's and 2000's with a geographic focus on locations in the Southeastern United States.