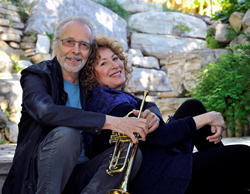 We are grateful for the continued support that the Herb Alpert Foundation has committed over the years
Santa Monica, CA (PRWEB) May 11, 2015
Since 2009, the Foundation has committed a total of $800,000 to the Good People Fund to help support programs that find inventive and impactful ways to focus on issues related to well-being in the United States. This marks the eighth anniversary of a partnership rooted in strategic grant making and philanthropic good work.
"Through the work of the Good People Fund," explained Rona Sebastian, President of The Herb Alpert Foundation, "we can help many of these grass-roots programs get a foothold and receive the funds and support they desperately need to impact change."
The Foundation is the vision of legendary musician, sculptor, painter, producer, recording industry executive and philanthropist Herb Alpert and his wife Grammy Award-winner Lani Hall.
"We are grateful for the continued support that the Herb Alpert Foundation has committed over the years," explains Naomi Eisenberger, the Good People Fund¹s Founding Executive Director. "The partnership has given us the ability to discover and nurture many unique below-the-radar initiatives that routinely find exciting ways to ease the burden of hunger, homelessness, poverty, elder care disability and more, and in so doing impact vast numbers of people. This partnership is strengthened by a shared core philosophy of elevating the work of highly effective organizations that strive to change the world in positive ways."
Founded in 2008, The Good People Fund, inspired by the concept of repairing the world, responds to significant problems such as poverty, disability, trauma and social isolation, primarily in the United States and Israel. We provide financial support and management guidance for small to medium grassroots efforts. With its guiding philosophy that small actions can have huge impacts and its emphasis on the personal connection, the GPF has raised and granted more than $6 million dollars since its inception in 2008. For more information on The Good People Fund or how you can support its grantees and their efforts, visit http://www.goodpeoplefund.org.