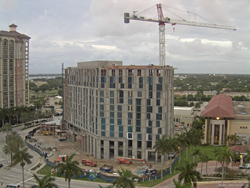 Palm Beach County, Florida (PRWEB) May 12, 2015
Multivista South Florida, the leading visual construction documentation company in Delray Beach, is providing photo and webcam services to the Hilton West Palm Beach Hotel at the Palm Beach County Convention Center.
A high-tech webcam, mounted in a prime location to view the entire building and its surrounding property, displays new images every 60-seconds. The images appear on PBC's website (http://www.pbconventioncenter.com) available to the public to view construction progress of the hotel in real time.
"It is an important project for both Multivista and the city of West Palm Beach. We are excited to provide such a valuable service to our client and the residents of Palm Beach County to monitor the progress of the construction," said Kristi Vick, owner of Multivista South Florida. "Multivista's services allow Related and Coastal Construction to connect with city residents, including them in the process."
In addition to webcam documentation, Multivista is taking thousands of photos to memorialize the construction progress of the Hilton. Linked to floor plans, these photos capture specific areas, perspectives, milestones, and features of the construction process in comprehensive detail for the construction crews and developer to reference.
Construction of Related and Coastal's 12-story, 400-room Hilton West Palm Beach Hotel has topped off, and it is anticipated to open in early 2016. The hotel is located at 600 Okeechobee Blvd.
About Multivista
Multivista is the leading provider of visual documentation services to the Construction and Facilities Management Industries. It combines photography, video, and webcam services with a robust software delivery platform to create interactive records of actual construction conditions and events. Increasingly a project standard on all types and sizes of construction projects, industry professionals use Multivista® documentation to improve efficiency, enforce accountability, verify quality, reduce risk, and control costs - before, during, and after construction. Founded in 2003, Multivista now operates in more than 50 major metropolitan areas across the United States, Canada, and the United Kingdom. Multivista has been awarded contracts to document more than one billion square feet of construction projects in the last five years alone, compiling a global portfolio that represents nearly every vertical market. Multivista South Florida is located at 277 SE 5th Ave., Delray Beach, FL 33483. Contact Kristi Vick, Owner, at 561-272-2223, k(dot)vick(at)multivista(dot)com, or visit http://www.multivista.com for more information.