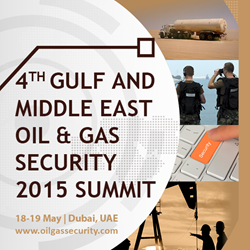 It's an IRN Summit!
London, UK (PRWEB UK) 7 May 2015
Risk management is of great importance at present for oil and gas operations in the Middle East, and the nexus between this and effective social responsibility planning is increasingly being understood.
IRN interviewed three experts in the industry; the Business Development Director of LPD Risk Management; the Cyber-Security Expert of ILF Consulting Engineers and the Chief Executive Officer of Send Word Now to take some insights on the physical security challenges security managers currently face in the region.
As the CEO of Send Word Now stressed "The security environment in the Middle East is certainly challenging. Historical threats have ranged from sabotage and kidnappings, to more widespread acts of terrorism. Today, organizations must also contend with new, sophisticated dangers such as cyberattacks. It calls for fresh approaches and more highly developed tools to combat these destructive efforts. I'm continuously impressed by the courage and tenacity of security professionals who work daily to protect people and assets. We're proud to do our small part to support them."
The most pressing issue currently is pipeline protection in terms of physical and cyber security; as the Business Development Director of LPD highlighted "Pipeline networks could be said to represent a country's economic arteries. Pipelines and the myriad associated facilities, sensors, valves, pumps and controllers, equipment stores, power supply units and so forth - indeed every physical and technical facet of a country's Critical National Infrastructure, presents high value military targets to terrorist groups, offering the very minimum by way of exposure and danger to the group itself, yet affording it widespread publicity and, apart from the destruction and disruption caused to infrastructure, considerable damage to the reputation of the country involved and its security services. A comprehensive, holistic strategic plan to mitigate the threat of attack is always of paramount importance and the responsibility not only of governments but of all IOCs."
Combating oil theft is now of paramount importance in the Middle East, as besides financial losses they now cause huge environmental problems. The Business Development Director of LPD stressed that "A central pillar of the economy of ISIS/Da'esh is the illicit sale and smuggling of oil across the region, however the environmental impact of this process is also of great concern. Unorthodox refining methods can lead to widespread and prolonged contamination of agricultural land, and even more significantly to groundwater, and thus local domestic water supplies. The knock-on effect to health must also be considered following reports of skin disorders and birth defects in the area and its environs. The existence of a terrorist state such as the so-called "Islamic State" has a far wider impact than the purely political."
Recent cyber-attacks on Middle Eastern companies systems raised the estimates on the growth of the cyber-security industry, because deploying a stronger IT system is very important for the protection of a pipeline. According to a Cyber-Security Expert at ILF; "Cyber-security is of paramount importance to the security of oil and gas pipeline networks. A cyber attack against industrial control systems can have a devastating effect on a country's entire Critical National Infrastructure, and yet it is an area which is often given secondary consideration to physical and technical measures. What is required is a systematic and integrated approach to security, and the implementation of an effective, layered, cyber security management system to protect from compromise and manipulation, to detect malicious attempts and, in the event of an attack, to bring about the recovery of the system to a safe and secure state."
These are some of the reasons IRN gathers for the 4th year, security heads within oil and gas companies operating in the Middle East to address these significant issues at the Gulf and Middle East Oil & Gas Security Summit, to take place in 2 weeks, 18-19th May, at the Raffles Dubai.
The CEO of Send Word Now highlighted how crucial it is especially this year for companies to be involved in this forum; "The threats associated with oil and gas production have never been higher. Thankfully, this Summit provides a comprehensive platform for physical and IT security professionals operating in this region to discuss ideas and share best practices for dealing with these threats. If oil and gas companies are to continue to thrive in the region, they must have strong resilience plans and reliable technologies to support operations. The Summit is valuable for helping companies strategize and prepare for today's difficult environment."
Taking place under the Chatham House Rule and with no media present, this Summit will be a discreet meeting focused on the regional security considerations for the oil and gas industry. The meeting is sponsored by Send Word Now, Global Security Network, LPD Risk Management, ILF Consulting Engineers, Thales Group and supported by the Middle East Association, the Information Security Forum and Cedigaz.
More information can be found on the website http://www.oilgassecurity.com while the full interview is available here.