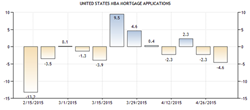 Peoples Home Equity thinks this is an opportunity for first-time home buyers to jump in and get pre-approved for a home loan while the competition has waned
Chicago, IL (PRWEB) May 07, 2015
Lenders like Peoples Home Equity were disappointed on Wednesday to see that the mortgage applications declined -4.6% for the week ending on May 2nd.
As shown on TradingEconomics.com weekly mortgage applications fell for the second consecutive week, falling -2.3% last week to -4.6% this week. This was the largest weekly decline in applications since January 2015. The culprit seems to be interest rates as the average 30-year fixed rates increased from 3.85% from April 24th to 3.93% on May 1st. CNBC mentioned on March 6th in an article titled " "Weekly mortgage applications drop 4.6% on higher rates" that "Refinances, which are highly interest rate sensitive, were the driver of the overall volume drop. Applications to refinance loans fell 8 percent week-to-week. The refinance share decreased to just 53 percent of total applications. It had been as high as 80 percent during the worst of the housing crash, when rates were hitting new record lows and home sales were anemic." On a positive note CNBC mentioned "Despite higher rates, applications to purchase homes did manage a slight gain, up 1 percent from the previous week to the highest level since June 2013. That, coincidentally, was exactly when rates spiked sharply". Peoples Home Equity views this as a very positive omen that even if the Federal Reserve raises interest rates this year, demand for purchasing mortgages and real estate will continue to rise.
While the decline in applications is disappointing for lenders Peoples Home Equity thinks this is an opportunity for first-time home buyers to jump in and get pre-approved for a home loan while the competition has waned. First-time home buyers should note that many Americans have been approved for a home loan this year. In fact, January 2015 experienced the highest weekly increase of mortgage applications at 49.1% ever! This is because many Americans are employed and have had the time to build their credit and saved for a down payment which has enabled them to get pre-approved for a loan now.
If interested in purchasing a property and are in in need of a mortgage, consider speaking to a Peoples Home Equity loan officer today at: 262-563-4026