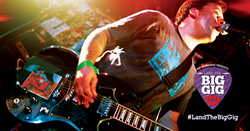 With Land the Big Gig we wanted to offer an even greater opportunity by giving artists the chance to perform at Summerfest and win prize money that can take their career to the next level." - David Ledlie, Milwaukee Journal Sentinel Director of Marketing
MILWAUKEE, WIS (PRWEB) May 09, 2015
The 4th annual Land the Big Gig® music competition has kicked off its voting phase. Beginning Wednesday, May 6th at 1:00 pm CST, fans will vote for their favorite music online. Fans may vote once per day for their favorite artists until Sunday, May 24th at 11:59pm. The top three finalists will be announced tentatively on Wednesday, June 10. Finalists will win accommodations in Milwaukee and cash prizes. Presented by Pepsi, Summerfest and TapMilwaukee, Land the Big Gig® culminates in a live performance competition before thousands of Summerfest attendees on Thursday, June 25th at 5:00 pm.
"Considering the current online climate, there are numerous music outlets for up and coming bands to be heard," said Milwaukee Journal Sentinel Senior Director of Marketing, David Ledlie. With Land the Big Gig we wanted to offer an even greater opportunity by giving artists the chance to perform at Summerfest and win prize money that can take their career to the next level."
Summerfest, "The World's Largest Music Festival" features an unforgettable live music experience for nearly 900,000 music fans from around the world. For the past 47 years, Summerfest has been Milwaukee's cornerstone celebration, offering entertainment for everyone along the shores of Lake Michigan.
"We are excited to host Land the Big Gig® for the fourth year at Summerfest and help talented musicians from around the country realize their dreams of performing at a mega music event and winning cash," said Summerfest Chief Marketing Officer, John Boler.
Fans and contest entrants are encouraged to visit LandTheBigGig.com for updates and follow Land the Big Gig® on Facebook at Facebook.com/LandTheBigGig and Twitter at Twitter.com/landthebiggig.
About Summerfest
Summerfest 2015 will take place June 24 - 28 and June 30 – July 5 from Noon until Midnight and will be closed Monday, June 29. Following its 1968 debut, Summerfest has evolved into what is now recognized as "The World's Largest Music Festival" and Milwaukee's cornerstone summer celebration, bringing the music industry's hottest stars, emerging talent and local favorites along with approximately 900,000 people from Milwaukee and around the world together each year for an unforgettable live music experience. During the festival, the spotlight shines on over 800 acts, over 1,000 performances, 11 stages, delectable food and beverages and interactive activities, all in a world-class festival setting. Patrons can also enjoy Miller Lite, the Official Beer of Summerfest. For more details, visit Summerfest.com, Facebook.com/summerfest or Twitter: @Summerfest.
About Tap Milwaukee
TapMilwaukee.com is the Milwaukee Journal Sentinel's essential guide to entertainment, with all the latest news on music, dining, art and architecture, theater, books and more. Before you head out on the town, turn to TapMilwaukee for fast, thorough entertainment information you won't find anywhere else.