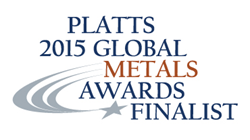 To be selected as a finalist for Metals Distributor of the Year from such a well-respected global organization is an amazing accolade, said Todd Zyra, President
Rochester, NY (PRWEB) May 07, 2015
Klein Steel Service Inc., a full-line metals service center with a worldwide distribution network, has been named a finalist for Metals Distributor of the Year from Platts Global Metals Awards.
"To be selected as a finalist for Metals Distributor of the Year from such a well-respected global organization is an amazing accolade," said Todd Zyra, President, "We're extremely proud of our values-based culture that emphasizes customer, supplier and team member success—and pleased with our team's outstanding performance across our key internal and external measures."
"This year's 78 finalists, hailing from every major world region, represent the best and brightest of the global metals and mining sector," said Platts President Larry Neal. "We're proud to see this program grow in scope for a third year and look forward to celebrating the winners in May."
Winners of the third annual Platts Global Metals Awards will be announced on May 21 in London.
Founded in 1971, Klein Steel Service Inc. is a premier steel service center with locations throughout New York. With over 3,200 line items of carbon, stainless steel, and specialty metals, the company offers a full range of value-added processing, an integrated distribution network that extends the Klein Steel reach worldwide and compliance to strict Nuclear Energy (NQA-1) guidelines. Klein Steel is acknowledged as an innovator and industry leader having been named a finalist in 2014 for the Service Center of the Year award from American Metal Market, a 2015 winner of a Rochester Top Workplaces award, a 2012 recipient of the Rochester Business Ethics Award, and winner of the IndustryWeek Best Plants award in 2011.
Our Mission: Klein Steel strives to be the premier supplier of metals by providing solutions to meet our partners' needs. We attract and engage the best teammates, suppliers, and customers while embracing innovation and continuous process improvement.