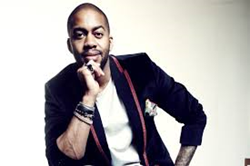 Portland, Oregon (PRWEB) May 11, 2015
Mitchell Jackson, award-winning author and documentary film maker from Portland, will be the featured presenter at two Rise Up Rockwood events in May, a benefit luncheon for the Center for Family Success and a screening of his film The Residue Years: The Documentary. Mr. Jackson's story of triumph in spite of overwhelming obstacles will inspire audiences and help young people understand the possibilities that await them. The Rise Up Rockwood event series is designed to provide a forum for the community to connect and to engage in conversations around issues impacting youth and families.
Mr. Jackson will be the keynote speaker at a luncheon on Thursday, May 28th from Noon to 1:30 PM at the Ambridge Event Center. The event benefits the Center for Family Success, which serves the Rockwood community with programs for parents and youth impacted by the criminal justice system.
The Center for Family Success improves outcomes for children of justice involved parents by supporting their parents to successfully return to their community and family. At the luncheon guests will join Pathfinders of Oregon to raise awareness and funds for these families. Mr. Jackson will screen a portion of his documentary film. Other special guests will join him in celebrating the success that can be achieved in the face of overwhelming adversity.
On Thursday, May 28th from 4:30 PM to 7:00 PM at The World Trade Center Theater, Mr. Jackson will join several inspiring panelists representing diverse backgrounds in a special discussion and screening of The Residue Years: The Documentary. Panelists will share their personal stories of leaving a criminal life behind. Guests and speakers will join in conversations around issues of youth and gang violence prevention, overcoming obstacles, and achieving success.
Mitchell Jackson grew up in Portland and went to prison for selling drugs in the 1990s. After his release, he returned to college to pursue a career in writing. He received his M.A. in writing from Portland State University and an M.F.A in Creative Writing from New York University. He has been the recipient of fellowships from Urban Artist Initiative and The Center for Fiction and is the former winner of the Hurston Wright Foundation's award for college writers. Mr. Jackson teaches writing at New York University. His novel, The Residue Years, was this year's the Multnomah County Library Everybody Reads selection.
About Pathfinders of Oregon
Pathfinders of Oregon is a 501(c) 3 organization whose mission is to break the cycle of criminality. Pathfinders has taught programs within the Oregon Department of Corrections for more than 20 years. In the community it offers programs to families impacted by the criminal justice system through its Center for Family Success in Rockwood.