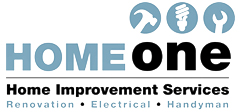 We are really blessed to have a great group of talented employees who are dedicated to achieving our #1 priority, customer loyalty
(PRWEB) May 11, 2015
Home One Home Improvement Services is celebrating 10 years of exceptional service to their customers. To celebrate, Home One is offering a 10 percent discount on any project scheduled or performed during the month of June.
Home One started out as a simple handyman business run by two life-long friends who were bent on delivering high quality workmanship with outstanding service particularly on smaller jobs that other companies turned down. Home One's unique approach "to do it different" caught on and soon, home remodeling and electrical were among the featured services. Today, celebrating 10 years of providing expertise, technical knowhow and the amazing Home One 5-star guarantee, the company's remarkable reputation continues to grow with sales that have tripled since 2009 and a growing collection of satisfied customers.
Home One strives to deliver the best care coupled with expert knowledge and skills to the communities of central Pennsylvania. The Home One team promises quality, convenience and honesty on each and every project – no matter the size. Home One Business Development Manager, Kyle Wimer, explains, "I joined Home One back in 2011 because I believed in the vision of the company and realized the huge value they were delivering to customers with the 5-Star Guarantee. I liked the family-oriented environment and the focus on the customer. It's great to be part of a growing, forward thinking company that operates with a specific set of expectations that are totally focused on not just the quality of work, but the entire customer experience as a whole. That's why over 80 percent of our business is repeat customers and referrals from those customers."
Home One understands that celebrating 10 years is quite a milestone that is a result of unmatched customer satisfaction from start to finish, coupled with the unparalleled 5-Star Guarantee. The 5-Star Guarantee promises on time service, 100 percent customer satisfaction, the written price proposal guarantee, the 24-hour return call promise and the workmanship warranty. Customers trust the team at Home One with the care and character of their home and property on each job, whether that job is a small repair or major renovation. Home One's commitment to this level of care keeps customers coming back and Home One plans to keep that commitment for many years to come.
"It's exciting to be celebrating our 10 year anniversary. We started this company back in 2005 with one simple concept in mind…to do it different. We launched our 5-Star Guarantee in an effort to promote exactly how we were going to achieve this goal and it took off better than any of us could have expected. It didn't go without its challenges though. Three years after we started the company, the critical point in any young company's success, we hit a major economic downturn and sales went down significantly. Many of our competitors did not make it through this collapse but we were fortunate enough to pull through. We are really blessed to have a great group of talented employees who are dedicated to achieving our #1 priority, customer loyalty, as well as a terrific repeat customer base that has grown over the years." Chad Neiss, President and Co-founder, Home One.
Home One is excited to celebrate 10 years of high quality home improvements with first-rate customer service and look forward to many more years of delivering excellence and value to every customer.
Call on the professionals at Home One Home Improvement Services today. Wish them a Happy 10th Anniversary and tell them about your home improvement project. Remember to mention the 10th Anniversary Special to receive 10 percent off any project scheduled or completed in June!