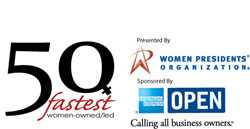 Phoenix, AZ (PRWEB) May 11, 2015
In-Flight Crew Connections' impressive growth in recent years was celebrated during theWomen Presidents' Organization's (WPO) 2015 Annual Conference. On May 1st, hundreds of business owners and executives from around the world gathered at the dinner and award's ceremony at the Arizona Biltmore in Phoenix, Arizona to celebrate the impressive growth and success of the 50 fastest-growing women-owned/led companies. The award's ceremony was part of the WPO's 3-day conference, which took place April 30th to May 2nd.
The Charlotte aviation staffing company, led by CEO Jennifer Gurthrie, ranked No. 21 on the list of 50 Fastest-Growing Women Owned/Led Companies. This is In-Flight Crew Connections' second year honored on the WPO's Annual list. In 2014, the company was honored as No. 17 on the list.
"The 50 Fastest list exemplifies the vital role women-owned/led companies have in boosting the economy and enhancing overall job growth," said Marsha Firestone, Ph.D., president and founder of the WPO. "We are pleased to partner with American Express Global Corporate Payments to honor these powerful women and recognize their triumphs."
All eligible companies were ranked according to a sales growth formula that combines percentage and absolute growth. From this list, the 50 Fastest were selected. To be qualified for the ranking, businesses are required to be privately held, woman-owned/led companies and have reached revenue of at least $500,000 by the first week of 2010 and $2 million in 2014.
About In-Flight Crew Connections
In-Flight Crew Connections, a global leader since 2002, provides aviation industry staffing solutions for owners and operators of business class jets. Focused on developing customized solutions that meet the unique needs of corporate aviation clients, our range of services include: ONe-Call™ Temporary Crew Services - on demand supplemental staffing for pilots, flight attendants, schedulers/dispatchers, aircraft maintenance technicians and engineers, Payroll Services, Management Service, Recruiting & Placement, International Staffing, and Concierge Services. The company is a privately held WBENC certified women-owned staffing firm headquartered in Charlotte, North Carolina.
To schedule staffing services with In-Flight Crew Connections, call (704) 236-3647. Visit In-Flight Crew Connections online at http://www.inflightcrewconnections.com or follow In-Flight Crew Connections on Twitter, LinkedIn and Facebook.
About the Women Presidents' Organization (WPO)
The WPO is the ultimate affiliation for successful women entrepreneurs worldwide. In monthly meetings across the world, women from diverse industries invest time and energy in themselves and their businesses to drive their corporations to the next level. Local WPO chapters are coordinated by a professional facilitator and meet monthly to share business expertise and experience in a confidential setting. For more information, call 212-688-4114 or visit http://www.womenpresidentsorg.com.
###