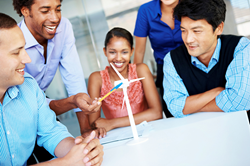 "The Environmental Leadership Academy at CSUSM Temecula is designed to engage and inform students on policies and issues that are critical to our quality of life" - Mike Schroder, CSUSM Dean of Extended Learning
San Marcos, CA (PRWEB) May 13, 2015
This June, California State University San Marcos (CSUSM) Extended Learning and the Environmental Leadership Academy at CSUSM's Temecula campus will be hosting two workshops on important environmental laws. Led by Dr. Matt Rahn, PhD, JD, these full-day workshops will provide attendees with an understanding of the purpose and implementation of these laws, their practical uses and applications, and how to navigate the process for each law.
CEQA Workshop: What is CEQA and How Does It Work? will take place on June 12. Focusing on the California Environmental Quality Act (CEQA), attendees will get an informative and compelling introduction to California's seminal environmental law. Professionals including community leaders, planners, and developers can learn about the implications of CEQA for their organization, plan, or project.
The second workshop, Endangered Species Act: Habitat Conservation Planning, will be held on June 19. The workshop will provide an introduction to the Endangered Species Act (ESA) and Habitat Conservation Planning (HCP). Those involved in areas such as land use, city planning, and environmental policy, will benefit from discussions of case studies including the Western Riverside County MSCHP and the San Diego MSCP.
"The Environmental Leadership Academy at CSUSM Temecula is designed to engage and inform students on policies and issues that are critical to our quality of life," explains Mike Schroder, Dean of Extended Learning at CSUSM. "We hope that these workshops, led by educators and experts, will support both current and next-generation regional leaders in making decisions that will impact future generations in San Diego and Riverside counties."
Each of these environmental workshops runs from 8:30 am to 4:30 pm at CSUSM Temecula. The fee for each workshop is $175, and registration is open to all interested students and community members. To learn more or to enroll, call CSUSM Temecula at 951-676-9254, or visit http://www.csusm.edu/enviroworkshops.
About CSUSM Extended Learning
As the academic outreach arm of Cal State San Marcos, Extended Learning is a leading provider of professional and continuing education in North San Diego and Southwest Riverside Counties. Offering degree programs, such as a specialized accelerated MBA degree, as well as both academic credit and noncredit professional enrichment courses, Extended Learning helps individuals and organizations achieve their educational and training goals. For more information about Extended Learning at CSUSM please visit http://www.csusm.edu/el/.