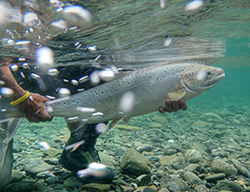 Quebec's salmon resource is in a serious state of decline, with fewer than one-third of the salmon populations of assessed rivers meeting or surpassing minimum conservation requirements.
St. Andrews, NB (PRWEB) May 11, 2015
The Atlantic Salmon Federation (ASF) shares the disappointment of the Fédération québécoise pour le saumon atlantique (FQSA) that the measures announced by Laurent Lessard, Quebec's Minister of Forests, Wildlife and Parks are far from strong enough to address the severe decline of wild Atlantic salmon populations in Quebec.
The FQSA had advised Minister Lessard to take firm action in the wake of a unanimously-adopted resolution calling for the live release of all large salmon. Under the new measures announced late last week, it will be mandatory to release large salmon on only 16 of the province's 118 salmon rivers.
"Quebec's announcement is out of step with the strong conservation measures taken in other regions," says Charles Cusson, ASF's Director of Quebec Programs. "Quebec's salmon resource is in a serious state of decline, with fewer than one-third of the salmon populations of assessed rivers meeting or surpassing minimum conservation requirements. In order to show leadership to influence unsustainable international fisheries at Greenland and St. Pierre et Miquelon that harvest our migrating salmon, precautionary management measures must be adopted throughout eastern Canada."
The final numbers from the 2014 season for returns of wild Atlantic salmon to Quebec rivers were released in January, heightening ASF's concern over both declining runs and increased angler harvest. The decline in salmon populations reflects the experience on many Canadian rivers in 2014, which led to public outcry and a decision by Gail Shea, Minister of Fisheries and Oceans Canada to set up a Ministerial Advisory Committee to consult and recommend action.
In response to advice from the Ministerial Advisory Committee, the Minister announced this spring that the recreational salmon fishery in the Maritimes would be restricted to catch and release only and mandatory single barbless hooks in 2015. "There is need for harmonization on border rivers between New Brunswick and Quebec, such as the Patapedia and Kedgwick, where the restrictive measures do not presently apply on the Quebec side," continued Mr. Cusson.
The Ministerial Advisory Committee will meet from May 12th to 14th in Quebec City, the final of a series of meetings with stakeholders in Halifax, Moncton and St. John's.
The Ministry of Forests, Wildlife and Parks conducts rigorous monitoring of abundance and exploitation of wild Atlantic salmon in Quebec. In 2014, 19,173 Atlantic salmon were counted in 36 assessed rivers. A total of 5,013 salmon were killed by anglers, 3,670 grilse (Atlantic salmon which have spent only one winter at sea) and 1,343 large salmon. In 2014, only 56% of the salmon caught were released, compared to 60% in 2013. These numbers are not complete as anglers are not subject to mandatory reporting of the salmon they catch and release.
According to the provincial government's report, overall runs of large salmon to Quebec rivers declined 49% compared with the five-year average. Runs of grilse declined 18 % compared with the five-year average.
Of the 36 assessed rivers, only 11 met or surpassed minimum conservation targets. A minimum conservation target is a threshold gauged after harvests by anglers and First Nations have taken place and below which biologists warn salmon runs should not fall. In order to achieve a robust, sustainable salmon run, the number of spawning salmon must consistently surpass this minimum conservation target.
-30-
The Atlantic Salmon Federation is dedicated to the conservation, protection and restoration of wild Atlantic salmon and the ecosystems on which their well-being and survival depend. ASF has a network of seven regional councils (New Brunswick, Nova Scotia, Newfoundland and Labrador, Prince Edward Island, Quebec, Maine and Western New England). The regional councils cover the freshwater range of the Atlantic salmon in Canada and the United States.
ASF Contacts:
Charles Cusson, Director, Quebec Programs
(514)926-1412
fsamtl(at)bell(dot)net
Holly Johnson, Manager of Public Information: (506)529-1033(o)
(506)469-1033(c), HJohnson(at)asf(dot)ca
To view this story online visit: http://asf.ca/asf-disappointed-by-quebec-lack-of-action.html
Join us on facebook: https://www.facebook.com/AtlanticSalmonFederation Twitter: https://twitter.com/SalmonNews
For high-resolution photography please visit: the ASF Image Gallery: http://www.asf.ca/images.html