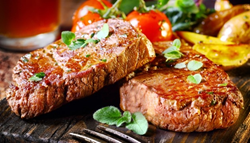 Allenhurst, New Jersey (PRWEB) May 11, 2015
Red Bank favorite, Danny's Steakhouse & Sushi is encouraging healthy eating with the addition of their new Paleo diet to their spring menu. According to the restaurant's blog, the menu includes grass fed steaks, grass fed lamb, grass fed hamburgers and grass fed lamb burgers coupled with fresh vegetables. All ingredients are imported from New Zealand.
A paleolific diet is based on animal proteins and plants, avoiding grains, refined sugar and dairy. Another local eatery that has adopted this style is Cave, A Paleo Eatery, located in Avon-by-the-Sea, New Jersey. Visit their website to view their menu at http://www.cavepaleoeatery.com/.
For more information on Danny's Steakhouse & Sushi and their paleo diet, watch the restaurant's YouTube video at https://www.youtube.com/watch?v=DbC2o53FVic&feature=youtu.be&app=desktop and go to their website http://dannyssteakhouse.com/.
About Bielat Santore & Company
Bielat Santore & Company is an established commercial real estate firm. The company's expertise lies chiefly within the restaurant and hospitality industry, specializing in the sale of restaurants and other food and beverage real estate businesses. Since 1978, the principals of Bielat Santore & Company, Barry Bielat and Richard Santore, have sold more restaurants and similar type properties in New Jersey than any other real estate company. Furthermore, the firm has secured in excess of $500,000,000 in financing to facilitate these transactions. Visit the company's website, http://www.123bsc.com for the latest in new listings, property searches, available land, market data, financing trends, RSS feeds, press releases and more.