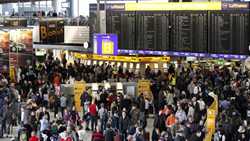 Glastonbury, CT (PRWEB) May 12, 2015
Memorial Day Weekend is right around the corner and according to the 2015 projections provided by AAA, 4.8 million Americans will travel 50 miles or more from home during the Memorial Day holiday weekend, an increase of 1.2 percent – or 500,000 travelers – from the 34.3 million people who traveled in 2014. Approximately 30.7 million people plan to drive to their destination, more than 2.5 million leisure air travelers will fly, and the remaining 4.5 percent of holiday travelers are expected to travel by other modes, including rail, bus and watercraft. The Memorial Day holiday travel period is defined as Thursday, May 21 to Monday, May 25.
Travel Insured International, a leading travel insurance company, provides travel tips to make the most out of your "unofficial start of summer" and to ensure a smooth trip during one of the busiest travel times of the year.

Save Money - While booking a travel itinerary, save money by bundling hotel, airfare, and activities into one package. When you book tickets, be sure to double, or even triple check your departure and arrival dates – being flexible with dates can sometimes cut ticket costs in half.
Get a head start - If flying, travelers should arrive at the airport with extra time to spare during such a busy holiday. Lines will be long, and the earlier you arrive at the airport, the better the chance that you will make your connection. If the plan is to drive, be sure to factor in extra time for potential time at tolls, rest stops, and stuck in traffic.
Stay Safe and Aware – The popular travel season is unfortunately often associated with a high percentage of travel theft occurring. Just as flights are becoming extremely crowded, airports can also be fraught with thieves. Be aware of your surroundings and maintain a close watch over tickets, wallets, purses, and other belongings at all times.
Check the weather- Research the weather forecast at both your departure and arrival cities before you leave. With such different and severe weather happening among different areas of the world, it is important to be prepared. It will not only help you with what to pack, but will help you be aware if you might be forced to experience any travel delays whether flying or driving.
Pack a Travel Insurance Plan - A travel insurance plan can cover you for things that may go wrong while traveling. It only takes one uninsured travel risk, arriving without expectation to destroy a dream trip, or worse, incur uncovered emergency medical costs. Prepared travelers will plan ahead with the policy which fits their coverage need best in order to protect their travel investments during the 2015 travel season.
If individuals are in fact planning to celebrate Memorial Day by traveling, Travel Insured International, urges travelers to invest in the insurance policy which suits them best before embarking on a weekend getaway. The policies offered by Travel Insured can provide coverage for a great number of disruptions, emergencies, and unexpected costs including trip interruption, missed connection, lost or stolen luggage, damaged personal items, pre-paid travel expenses, rebooking, sudden illness, and medical evacuation.
Founded in 1994 by Peter Gehris, Travel Insured International is one of the leading travel insurance providers, offering the highest quality worldwide travel insurance protection for over 20 years. Located in Glastonbury, Connecticut, the company offers an array of travel insurance protection benefits including Emergency Assistance and Evacuation, Trip Cancellation and Trip Interruption Protection, Medical Insurance, Baggage Insurance, Airline Ticket Protection, and more.Travel Insured maintains relationships with specialty travel providers and tour operators, as well as provides 24/7 insurance assistance that allows you to travel relaxed, travel secure, and travel insured.
Travel Insured International
855 Winding Brook Drive
Glastonbury, CT 06042