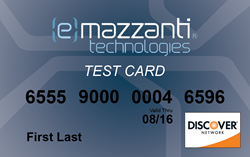 In retail deployments you want to make sure that everything is perfect prior to store openings without involving the customer or using employee cards.
Hoboken, NJ (PRWEB) May 12, 2015
eMazzanti Technologies, a NYC area IT consultant and MSP, announced today that it is offering credit cards for testing or training purposes to retail merchants, professionals, contractors and other businesses that accept credit cards. The cards, which look and feel like regular Visa, MasterCard, Discover and American Express cards, can be used by merchants to teach employees how to process credit cards in a variety of situations, making them a valuable tool to prepare for store openings and for training new employees.
Capping a year of 200% growth in retail POS revenue, eMazzanti is offering the test cards to further increase their commitment to retailers and professional services customers. With high-profile retail POS deployments, such as Pandora Jewelry and Timothy Oulton furniture galleries, and a strategic partnership with POS solutions provider, KWI, eMazzanti has become a major supplier of IT services for the retail industry.
Using the test cards in training situations offer a number of benefits including an improved customer experience, reduced losses from fraud, positive buzz from store openings, more confident and satisfied employees and reduced back-office challenges from unintended transactions.
"In retail deployments you want to make sure that everything is perfect prior to store openings without involving the customer or using employee cards," stated Carl Mazzanti, CEO, eMazzanti Technologies. "Using the test cards will help merchants to improve the customer experience and streamline operations."
The test cards, available to eMazzanti customers who accept credit cards, make it easier to train employees in the proper handling of cards and test credit card terminal connections. Like regular cards, they work correctly when swiped through a magnetic card reader to request transaction authorization. In most retail systems specific amounts can also be entered to simulate various results such as authorized, insufficient funds, expired or declined.
According to the published Card Acceptance Guidelines for Visa Merchants, other important elements in the credit card handling process include checking the card's features and security elements, making sure the card is valid and has not been altered in any way, obtaining authorization and, if required, getting the cardholder signature on the transaction receipt and comparing the name, number, and signature on the card to those on the transaction receipt. If fraud is suspected, employees are advised to adhere to their merchant's store procedures and respond accordingly.
With increasing credit card fraud, the major card issuers and retail associations urge that employees receive thorough training in the proper handling of credit cards. Training employees to prevent fraud is particularly important in light of the October 15, 2015 POS counterfeit liability shift which encourages merchants to use card terminals that accept the new EMV chip cards that provide dynamic authentication data. Under new rules in effect after the shift, merchants will be held financially responsible for fraud losses if a counterfeit chip card is presented at a non-chip-capable terminal.
"EMV or chip-and-PIN technology is now the credit card security standard in the United States," stated Jennifer Mazzanti, President, eMazzanti Technologies. "With more than a decade of experience providing retail POS implementations and PCI compliance technology services, eMazzanti is well qualified to assist businesses with EMV card POS solutions."
eMazzanti Can Help
eMazzanti Technologies is well-prepared to provide retailers with the latest POS solutions to increase sales and streamline operations. Businesses can be confident of smooth openings and in migrating to the new EMV card security technology by taking advantage of eMazzanti's trained and certified retail POS and PCI compliance experts. To explore the options, please contact eMazzanti Technologies at info@emazzanti.net or call 1-866-EMAZZANTI.
Other related resource information:
Retailers Gearing Up for EMV POS Deadline
Why Retailers and SMBs Should Use a Managed Firewall Service
About eMazzanti Technologies
eMazzanti Technologies' team of trained, certified IT security experts provide 24×7 outsourced IT eMazzanti's team of trained, certified IT experts rapidly deliver cloud and mobile solutions, multi-site implementations, 24×7 outsourced network management, remote monitoring and support to increase productivity, data security and revenue growth for clients ranging from professional services firms to high-end global retailers.
eMazzanti has made the Inc. 5000 list five years running, is Microsoft's Partner of the Year and Northeast Region Partner of the Year and a 5X WatchGuard Partner of the Year. Contact: Carl Mazzanti 201-360-4400 or emazzanti.net Facebook: Facebook.com/emazzantitechnologies Twitter: @emazzanti
Download the free article: How to Select an IT Provider here.