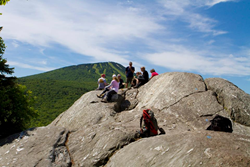 New Life has been listed as a Top Ten Wellness Retreat for 2015 by The Active Times, Travel to Wellness and Huffington Post. New Life was just selected as one of the top three U.S. stays of the summer season by Rand McNally.
Mendon, VT (PRWEB) May 14, 2015
New Life Hiking Spa in Mendon/Killington, Vermont, has just opened for its 38th season at The Cortina Inn & Resort. Open each spring through fall season, the current 2015 season opens on May 14 and will remain open through September 28.
Founded by Jimmy LeSage, M.S., in 1978, New Life Hiking Spa has become one of North America's most recognized spa vacations.
The first 12 years of New Life Hiking Spa were spent in Stratton Mountain, Vermont, and the program consisted of hiking, yoga, aerobics and healthy food. In 1990, he moved New Life to the newly opened Inn of the Six Mountains in Killington where it remained until last September. New Life Hiking Spa opens for its first year at The Cortina Inn on Route 4 today.
"I came up with the idea of New Life after attending a six week yoga retreat in Val Morin, Canada in 1977", states Mr. LeSage. He went on to say, "I had been living and working in Vermont for a few years after graduating with a degree in education from Florida State University and took the opportunity to use a ski hotel in the summers for my idea in 1978."
SpaFinder Wellness, which is the world's largest resource for the spa industry, has selected New Life Hiking Spa as one of the 25 Pioneer Spas which have shaped the spa industry as we know it today. New Life is consistently picked as one of the top ten spas in the world by SpaFinder's Reader's Choice Awards for hiking, solo travel, weight loss, affordability and fitness classes. In addition, Jimmy LeSage, M.S. was chosen as one of the world's top ten best spa managers.
Mr. LeSage and his wife, Kathleen also own and operate New Life Wellness Consulting from Florida in the winter and have consulted with companies interested in wellness and spa vacations in Costa Rica, Nicaragua, and Hawaii.
For the 19 weeks a year New Life Hiking Spa is open in Vermont, approximately 700 guests from all over the world come to visit New Life in the Green Mountains. New Life Hiking Spa averages approximately 40 guests per week and employs approximately 35 people each season. Massage therapists, chefs, office staff, hike leaders and fitness instructors make New Life a caring and comfortable vacation where guests at any fitness level feel at ease coming alone, with a friend or a small group.
Guests at New Life Hiking Spa experience rejuvenation with an all-inclusive spa vacation. New Life offers mini-getaways of three to four days, healthy "Jump Start" packages of 5-10 days and an 11 night or longer Weight Loss Retreat. Prices range from $225-$265 per night and include a private room with a private bath, three nutritious meals per day, healthy snacks, guided hikes along the Appalachian Trail and Long Trail (three levels offered per day), yoga classes, fitness classes, water aerobics in a heated indoor pool, cooking demos, healthy eating lectures, and one massage is included for every three night stay.
Referred to as a "Hiker's Paradise" in the July 2014 issue of SELF Magazine, New Life has been listed as a Top Ten Wellness Retreat for 2015 by The Active Times, Travel to Wellness Magazine and Huffington Post. Additionally, New Life Hiking Spa was just selected as one of the top three U.S. stays of the 2015 summer season by Rand McNally.
New Life has also been listed as New England's top spa by Spas of America in 2010, 2011, 2012, 2013 and was listed as the #1 Spa in America for 2014.
More information can be found online at New Life Hiking Spa's Website: http://www.newlifehikingspa.com or http://www.WeightLossSpa.com