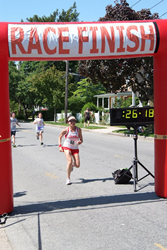 The Race for Literacy plays a central role in helping the Foundation carry out our mission of creating and supporting programs that advance literacy, instill a love and reading and level the academic playing field for children in low income communities
New York, NY (PRWEB) May 12, 2015
The Brooke Jackman Foundation (BJF), a children's literacy organization that has donated more than 250,000 books to children and families in need since its founding in 2001, will host the 10th Annual Brooke Jackman Race for Literacy on Sunday, May 17, at Theodore Roosevelt Elementary School in Oyster Bay, New York. Funds raised through the event, which will include a 5K run/walk as well as a 1/4 mile fun run for children ages eight and under, will support the foundation's many children's literacy initiatives, including the Brooke Jackman Family Literacy Programs, the Brooke Jackman Library Initiative, Brooke's Books and Brooke's Cooks, which benefit children in need throughout the New York area.
"The Race for Literacy plays a central role in helping the Foundation carry out our mission of creating and supporting programs that advance literacy, instill a love and reading and level the academic playing field for children in low income communities," said Erin Jackman, executive director of the Brooke Jackman Foundation. "We are thrilled to celebrate 10 years of this exciting, meaningful event and look forward to many more."
The 5K race will begin at 10:15 a.m. with a start and finish at the Brooke Jackman Reading Garden at Theodore Roosevelt Elementary School on West Main Street in Oyster Bay, New York. Runners will enjoy the USA Track & Field Certified Course over the scenic roads of the villages of Oyster Bay and Oyster Bay Cove. Children's activities will begin at 9:15 a.m., and the fun run will begin at 9:45 a.m.
Early registration fees before May 16th are $20. Fees on the day of the race are $25. The fee is $10 for students under 18 years of age. The 1/4 mile Fun Run for children eight and under is free. To register, click here.
Registrants should pick up numbers, shirts and timing chips at the Theodore Roosevelt Elementary School from 8:30-10 a.m. Amenities will include toilet facilities, refreshments, yoga stretches, water stops and mile splits. An awards ceremony will be held immediately after the run near the finish line.
For more information, to register online or to volunteer, visit http://www.brookejackmanfoundation.org.
About the Brooke Jackman Foundation
The Brooke Jackman Foundation was created in 2001 to honor Brooke Jackman, a bright and compassionate 23-year-old who was killed in the 9/11 terrorist attacks before achieving her dream of becoming a social worker. Brooke was an avid reader, and her passion and commitment to literacy and helping children spurred the Jackman family to create BJF as her living legacy – turning tragedy and despair into hope for a better world. Since 2001, the Brooke Jackman Foundation has donated over 250,000 books and over 30,000 Brooke Packs, backpacks filled with books and school supplies, to children and families in need. BJF has established four libraries, as well as a number of after-school literacy programs, in all five boroughs, including homeless shelters and Family Justice Centers for victims of domestic violence and crime in Brooklyn, Queens and the Bronx. The annual September Brooke Jackman Foundation Read-a-thon celebrates the resiliency of New York and its children. Visit http://www.brookejackmanfoundation.org.