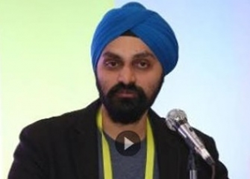 SMBs themselves rarely appreciate the broad reaching implications of Yelp's successes and failures.
San Francisco, California (PRWEB) May 13, 2015
TalkLocal's president and co-founder, Manpreet Singh, will speak at the SunTrust Internet & Digital Media Conference on May 13th in San Francisco. In addition to speaking engagements at CES International and The Pacific Crest Technology Summit, Manpreet also presented and demonstrated the TalkLocal app at SXSW Interactive.
The SunTrust event guest speaker lineup includes former Yahoo! CEO, Ross Levinsohn; Yelp CFO, Rob Krolik; and LendingTree CEO, Doug Lebda, just to name a few. Alongside the owners of 26 Dot 2 and SeriesC, Manpreet will offer his perspective on the future of Yelp and others in the local search competitive landscape. Because Yelp is an open API, its consumer reviews are currently incorporated into the algorithm for TalkLocal's local business ranking and matching service, making Manpreet's insights valuable as an industry competitor who also benefits from the Yelp brand.
The panel, hosted by Matthew Thornton, Vice President of Equity Research in Internet & Digital Media at SunTrust, will look at Yelp and its competitors from the perspective of B2B lead generation and marketing service providers. In addition to Manpreet, the panel features Chris Beck, Founder of 26 Dot Two and Becky Bausman, C-Level Advisor at SeriesC.
The panel will inform investors as they draw conclusions on the outlook of Yelp as a digital advertising platform by delving into issues such as:
Which tools the agencies most recommend for their businesses: Yelp's newer self-serve CPC offering or the subscription CPM offering?
How does Yelp perform in terms of ROI for SMB clients?
What companies and trends are presenting the biggest threats to Yelp?
According to Manpreet, to gain insight into Yelp's viability, it's crucial to look at it from the perspective of its paying business clients. Unfortunately, he says that SMBs themselves rarely appreciate the broad reaching implications of Yelp's success and failure because, as Manpreet put it, "SMBs are focused on their own success, and rightly so."
However, B2B marketing agencies, like TalkLocal, 26 Dot Two and SeriesC, work with hundreds of small businesses and thus gain a broader understanding of Yelp and the local search space. So, he continues, "when you combine that with our passion and concern for the well-being of our business clients, then you get a richer and more complete picture of the industry."
TalkLocal raised $4 million in venture funding, has served in 49 states and recently marked its one millionth service request call. It offers 50 service categories like roofing, accountants and heating & cooling.