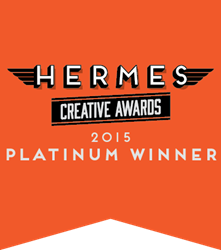 Colony Logic's Mobile Application and Company Branding have received the highest design honors from the Hermes Creative Awards, taking home the Platinum Award in both categories.
Los Angeles, Calif. (PRWEB) May 13, 2015
Colony Logic's CPQ Mobile Application and Company Branding have received the highest design honors from the Hermes Creative Awards, taking home the Platinum Award in both categories. The company also received the Gold Award for both its corporate Website and Marketing Video.
Entries from over 6,000 organizations, ranging from Fortune 500 companies to regional businesses, were reviewed and judged by a select group of industry professionals from the Association of Marketing and Communications Professionals. Only 15% of entries were selected for the highest honor, Platinum Winner, with notable organizations such as HubSpot, Allstate Insurance, Deloitte, Kaiser Permanente and iHeartMedia all receiving awards.
"Being held in such high esteem alongside industry leaders is a tremendous honor," says Colony Logic's CEO, Geoff Stevens. "At the core of our company, we want to build software that people actually want to use. I'm extremely proud that our core mission is being validated throughout every facet of our business—not only through the way people interact with our product, but also how they interact with our brand and marketing outreach."
Colony Logic's CPQ, order management and analytics applications are designed to automate sales, marketing, fulfillment and BI processes with simple, cost-effective setup. Utilizing intuitive UX design with mobile functionality, all of Colony Logic's apps have been meticulously designed to set the industry standard for business software ease of use.
ABOUT COLONY LOGIC
Colony Logic (http://www.ColonyLogic.com) is a SaaS company delivering a new breed of sales and marketing automation, fulfillment and order management, and analytics applications. The company's applications work over the top of current systems, allowing businesses to easily automate processes with zero downtime and no IT resources needed.
The company has deployed hundreds of thousands of application instances in nine countries and five languages and has launched products with organizations such as Cox Communications, Tribune Company, Hitachi Consulting, E.W. Scripps, The Berry Company, Reynolds and Reynolds, Excentus, OfferLogix, Media News Group, Sensis and KC Media. Its platforms have received multiple awards from Hermes Creative, INC. 500, Red Herring, Deloitte, and OnMobile Top 100.
Founded in 2011 and headquartered in Los Angeles, Colony Logic is backed by leading investors, including Blackstone/GSO Capital.
For more details or to request information:
Calvin Alvarez, Marketing Manager, calvarez@colonylogic.com
Tel: +1 310 598 1813
ABOUT THE HERMES CREATIVE AWARDS
Hermes Creative Awards is administered and judged by the Association of Marketing and Communication Professionals (http://www.amcpros.com). The international organization consists of several thousand marketing, communication, advertising, public relations, media production and free-lance professionals. AMCP oversees awards and recognition programs, provides judges and rewards outstanding achievement and service to the profession.
As part of its mission, AMCP fosters and supports the efforts of creative professionals who contribute their unique talents to public service and charitable organizations. Hermes entrants are not charged entry fees to enter work they produced pro bono. In addition, the efforts of generous marketing and communication professionals are acknowledged through grants and special recognition.
AMCP judges are industry professionals who look for companies and individuals whose talent exceeds a high standard of excellence and whose work serves as a benchmark for the industry. Winners were selected from 195 categories grouped under advertising, publications, marketing/branding, integrated marketing, public relations/communications, electronic media and pro bono. About 15% of the entries won the Platinum Award- the organization's top honor. 22% won the Gold Award. A list of Platinum and Gold Winners can be found on the Hermes Creative Awards website at http://www.hermesawards.com.