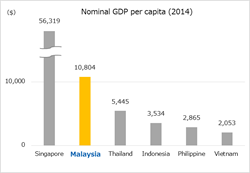 Tokyo, Japan (PRWEB) May 14, 2015
GMO Internet Group non-face-to-face payment processing service provider, GMO Payment Gateway Inc, announces it has partnered with Exabytes Ecommerce Group Sdn Bhd, a shopping cart service provider in Malaysia, to provide overseas payment service, GMO-PG Global Payment for the Exabytes shopping cart solution, EasyStore, beginning May 14.
As a result, Japanese ecommerce operators (*1) using EasyStore in the Malaysia market will be able to offer payment methods such as credit cards and online banking which are common in Malaysia while receiving operational support in Japanese from "GMO-PG Global Payment".
(*1) A local corporation established in Malaysia is required to use the GMO-PG Global Payment service.
With expected growth at an annual average rate of 37.6% from 2013 to 2018, the e-commerce market in south-east Asia is showing signs of strong growth. GMO-PG has established a local presence in five countries and regions expected to develop, including south-eastern Asia, Hong Kong, and Taiwan. GMO-PG has been strategically expanding in Asia taking advantage of synergies between its two main businesses; GMO-PG Global Payment, the global payment service for Japanese e-commerce businesses operating these regions, and GMO Global Payment Fund, a venture capital fund dedicated to payment providers that forms capital and business alliances with local payment providers.
GMO-PG established local Malaysian corporation, GMO PAYMENT GATEWAY MALAYSIA SDN.BHD., on February 2014. With a GDP per capita exceeding USD10,000 in 2014, Malaysia is the second largest economy in south-east Asia only behind Singapore with a share of approximately 20% of the entire e-commerce market in south-east Asia which is worth approximately USD9 billion in total. Given this environment, it is expected that participation in the Malaysian e-commerce market will increase not only from Japan but from sellers of products, games, and other digital content from around the world.
In order to provide better support for Japanese e-commerce businesses entering the Malaysia market, GMO-PG is partnering with provide with Exabytes to link the GMO-PG Global Payment system to EasyStore, the largest shopping cart in Malaysia.
Japanese e-commerce operators who have established a local company in Malaysia will be able to build an e-commerce website on EasyStore and use the GMO-PG Global Payment plug-in to accept credit card payments in local currency, online bank transfer and other common payment methods in Malaysia. In addition, Japanese companies with less experience in global business can rest assured that all operational support is provided in Japanese.
Going forward GMO-PG Global Payment will partner with shopping cart services in other regions including Singapore and Thailand, to continue expanding global support for Japanese e-commerce operators.
(*2) From an analysis on e-commerce market in south-east Asia released by Frost & Sullivan (July 4th, 2014)
About GMO-PG Global Payment
GMO-PG Global Payment is a Global payment service for Japanese e-commerce business operators aiming to expand through the establishment of local companies in overseas markets. With the provision of payment methods that meet local needs in each market as well as local currency credit card payments , GMO-PG Global Payment currently operates in Singapore, Hong Kong, Malaysia, Taiwan, and Thailand (*3).
GMO-PG Global Payment, offers Japanese-language support to merchants including negotiation and operational support, and all transactions are processed in local currencies. making the service ideal even for e-commerce businesses expanding overseas for the first time. Furthermore, through collaboration with leading businesses in each country, GMO-PG will provide not only payment solutions, but everything necessary for a successful overseas expansion including delivery, promotion and marketing.
(*3) GMO-PG can only provide services within the limits of the law of each country and credit card regulations concerning cross border transactions.
About Exabytes Ecommerce Group Sdn Bhd
Exabytes Ecommerce Group Sdn Bhd has been aggressively developing a hosting type EC platform equipped with a shopping cart function, "EasyStore", in which the largest scale of more than 15,000 sites have been set up in Malaysia as of now.
Besides, Exabytes Network, which is its parent company, is a web hosting corporation founded in 2001 with its headquarters at Kuala Lumpur. For its about 65,000 of small and middle-sized corporations and individual customers, Exabytes Network provides approximately 100 million e-mail accounts for more than 121 countries across the world in addition to 100,000 of web sites.
About GMO Payment Gateway
GMO Payment Gateway, Inc. is a non-face-to-face payment processing service provider offering solutions including online transaction processing for online stores, social and smartphone content sellers, and processing of recurring payments NHK television license fees. The company also provides dedicated payment solutions for public institutions including Japan Pension Service and Tokyo Metropolitan Government. Our services are safe and convenient for both business and the consumer. As the largest payment processing service in Japan, GMO Payment Gateway is an innovation leader and key contributor to the growth and development e-commerce. Please visit http://www.gmo-pg.com.sg/ for more information.