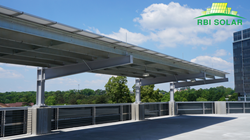 Cincinnati, OH (PRWEB) May 13, 2015
This canopy project presented unique challenges from both an aesthetic and engineering perspective. The design of the canopy incorporated aesthetics to match existing structures. In addition, the design included perimeter canopy coverage with a cantilever column mounted to existing parking garage columns. Providing such a design required close coordination with Structural Engineers responsible for the concrete garage structure to confirm load carrying capacity as well as details for anchorage attachments.
RBI Solar's unparalleled turnkey approach to providing solar mounting solutions allowed us to achieve the desired look and functionality of this canopy project through attention to the detail of the Customer's needs and close coordination with other trades to ensure structural integrity of both the solar canopy and the existing garage structure.
RBI Solar Carport Canopy Specification:
Site: Cox Headquarters
Location: Atlanta, GA
Type of Installation:Single Cantilever Canopy
Size: 54.4 kW
Angle of Tilt: 3°
Module: Renesola 250W
Finish: Hot Dipped Galvanized
Foundation Type: Existing Concrete Columns
About RBI Solar
RBI Solar designs, engineers, manufactures and installs solar mounting systems for commercial and utility scale solar projects. This single-source responsibility is focused on delivering value throughout the solar value chain. As a specialist in ground mount, roof mount, landfill and custom designed specialty solar structures, RBI provides best-in-class solar racking solutions and project management capabilities to serve project developers and system integrators. When EPCs and project developers, across the United States need dependable, low-maintenance, cost effective mounting solutions, they look towards RBI Solar. RBI Solar's racking systems are custom designed to site-specific conditions by an in-house team of engineers and designers. Signed and sealed drawings are provided for all 50 states. Our leading-edge solar structures are designed to mount any type of solar module, to help you harness the maximum potential of solar power.
Visit http://www.rbisolar.com for more information