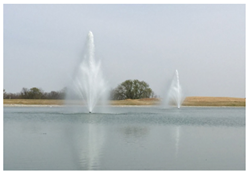 Most of our customers are extremely happy when they first see their new fountains operating in their lake or pond.
Orlando, FL (PRWEB) May 22, 2015
The Lake Doctors has announced the completion of Phase I of a floating fountain project for Cornerstone Development in Centerville, Ohio. The project involved installing two large fountains manufactured by AquaMaster Fountains in a large retention lake associated with Cornerstone. Cornerstone is a huge multi-use community which specializes in retail stores, single family homes, townhomes and commercial properties. It includes Costco and a Cabela's Sporting Goods stores. The buildout is expected to take 3 years to complete.
The fountains, powered by 5 HP submersible pumps, produce a beautiful spray pattern known as the Crystal Geyser. They operate at a height of 25' with a spray pattern width of over 30'. For a beautiful evening effect, the developers opted for LED underwater lighting kits for each fountain that product a brilliant white glow visible from quite some distance. This was the first two of a total of four fountains purchased for Cornerstone.
Fountains for lakes and ponds have become quite popular in Ohio and other states such as Florida, Georgia and South Carolina not only for their aesthetic appeal but for their biological benefits of oxygenation, circulation, and improvement of water quality. The Lake Doctors carries a number of different brands and is a dealer and certified repair center for several fountain manufacturers.
Mr. Robert Hall III, Project Manager for the parent group, Oberer Land Development, was extremely pleased when viewing the fountains for the first time after their installation by The Lake Doctors. He commented that "The fountains look awesome. This is what we had hoped for and more. Cannot wait to see them at night. Impressive and cannot wait for the other two fountains to be installed. Great job!"
Jimmy Lowry, the Field Manager and Fountain Specialist for The Lake Doctors, who installed the units said, "I am not surprised by Mr. Hall's comments. Most of our customers are extremely happy when they first see their new fountains operating in their lake or pond."
The Lake Doctors specializes in the care and maintenance of lakes and ponds across a several state area including OH,KY, FL, GA, SC, NC and AL and has been in business for over 36 years.