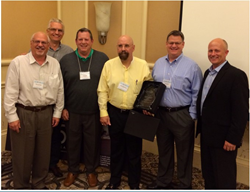 We are thrilled about [...] this prestigious award from one of the leading spa and bath manufacturers
Florence, Kentucky (PRWEB) May 18, 2015
On Tuesday April 28, 2015 Ross McMillan, CEO, Bob Dahl, VP Commercial and Gary Wood, Territory Sales Manager West - Aristech Acrylics®, were guests at Jacuzzi's Annual Supplier Conference in California when Aristech's name was called to receive an award.
"We are thrilled about the Team effort delivered by our Operations, Finance, HR and Commercial organizations that led to this prestigious award from one of the leading spa and bath manufacturers in the world" said Bob Dahl, VP Commercial, Aristech Surfaces LLC, in an email he sent the Aristech Acrylics® Team after receiving the award. "Everyone should be proud of their efforts that made this possible for us."
"This award is particularly special since there were some service challenges 3 years ago" said Gary Wood, Territory Sales Manager West - Aristech Acrylics®, who has worked tirelessly to rebuild the relationship with Jacuzzi over the last 3 years – and clearly with great success.
Today, Aristech Surfaces LLC is connected with Jacuzzi on a number of levels, from Gary Wood in the field to Donna Beresford in customer service, Ron Lun in technical support, Larry Tungate in Quality and Nicole Menkhaus in marketing, all of whom are working in partnership with various contacts at all levels of Jacuzzi headquarters on the West Coast as well as at their plants, up and down the American continent. Aristech's R&D, Production and Logistics teams have also played a pivotal role in the growing success of this partnership.