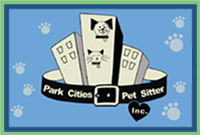 "These new tools will make our business run faster and more smoothly, which will solidify our place as customer service leaders in this market." Joette White, President of Park Cities Pet Sitter
Dallas, Texas (PRWEB) May 13, 2015
Using technology to stay in touch with field staff is not a brand new phenomenon for many industries. It is quite common to see internet and cable providers, and other companies that manage large workforces in the field-- with tablets and other devices that help their workers stay in contact with their office, and adjust their daily schedules at a moment's notice. Until recently, this management tool had not yet reached another industry with field staff, the pet sitting industry.
Park Cities Pet Sitter is the largest pet sitting company in the Dallas market, and next month will be joining the ranks of companies using smart devices to help their business run smoothly. Beginning in June, all full-time Park Cities Pet Sitter field staff will be given Apple iPad Airs to assist them in their job responsibilities, all in conjunction with a switch to new scheduling software. The iPad Airs will allow Park Cities Pet Sitter's staff to check in and out remotely as they do their scheduled visits, as well as allow staff to see the most up-to-date customer and pet information available for their visits. It will also allow staff to immediately see any last minute revisions to their schedule, without requiring a phone call to communicate such changes.
Park Cities Pet Sitter President,Joette White, can hardly wait for the conversion to the new software and rollout of iPads to her staff. "Managing the activities of 25 field employees is one of the biggest challenges my company faces. Making sure each staff member has all the information they need to do the best job possible is critical. Communicating this information, up until now, has meant calling staff cell phones, leaving them voice mails, sending them emails and sitters having to log into their home computers to view our scheduling system and update client information. There can be a delay in the sitter getting information if they are in the middle of a visit or are not in a place they have access to a computer. With our new scheduling software and iPads for staff, our office will have more information about their progress through their daily visits, and the sitters will be able to access their schedule and customer information online while in the field. We believe these tools will take our high customer satisfaction ratings to an even higher level."
From Ms. White's perspective, there are a number of staff management benefits that will come from her staff using iPads in the field: the check in and check out feature will allow management to track staff's progression through their daily schedule; the acknowledgment feature will allow staff members to confirm their acceptance of new visits while in the fields versus waiting until they are in front of their computers at home, making the scheduling process faster; and updates of customer or pet data that staff learn about during a visit can be made in the client's online profile in real time. "All of these new tools will make our business run faster and more smoothly, which will solidify our place as customer service leaders in this market," said Ms. White.
Ms. White believes the benefit of her staff's use of iPads extends to their clients as well. "Previously our staff would carry paper profiles with client and pet data. They will no longer need to do so, since this data will now be available at the push of a button from a password-secured tablet. That increases customer peace of mind and security. Real time updating of client information in the field by our staff means that if a backup staff member needs to step in and care for a client's pets, that they have the most up-to-date information to do so--without needing to go to a computer to print off data that potentially could be out-of-date. Frankly, the list of client benefits with this conversion to iPads for our pet sitters is really quite long, and we cannot wait to roll this out next month. This is the future for the pet sitting industry."
Park Cities Pet Sitter, Inc. has served the Dallas area 7 days a week, 365 days a year since 1992. Pet sitting, daily dog walks, pet taxis, overnight sitting, pet supply shopping, litter box cleaning and dog training are all part of the services PCPSI offers. Park Cities Pet Sitter is bonded and insured, and all sitters are employees--not independent contractors. A manager is on-call 24 hours a day to handle any emergencies. Additional information about Park Cities Pet Sitter can be found on their website at http://www.pcpsi.com.