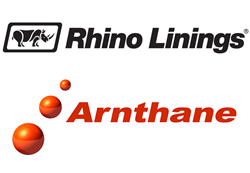 San Diego, CA (PRWEB) May 19, 2015
Rhino Linings Corporation ("Rhino Linings"), a leader in the protective coatings and linings industry is excited to announce the acquisition of Arnthane Incorporated ("Arnthane"). Arnthane, based in Richmond, Missouri, manufactures spray foam, polyurea, epoxy and urethane coatings. Much like Rhino Linings has done in the protective coatings and linings industry, Arnthane has established itself as a leader in the spray foam industry by developing quality products and solutions for original equipment manufacturers and spray foam contractors.
This acquisition provides Rhino Linings an immediate opportunity to incorporate the Arnthane line of foam products into its existing spray foam product offerings. There is significant upside for Rhino Linings beyond foam products that will allow the company to expand its reach into the industrial and commercial building products world, a goal Rhino Linings has been driving toward since it first establishing itself in this market in 2011. Both Rhino Linings and existing Arnthane customers will now be able to purchase from an expanded product list.
"We're very excited about the synergies between Rhino Linings and Arnthane Inc.," said Pierre Gagnon, president and CEO of Rhino Linings Corporation. "Arnthane's impressive product offerings, coupled with Rhino Linings excellent marketing capability and extensive distribution channels will make Rhino Linings an even greater force in the spray foam and coatings marketplace."
Arnthane employees will join Rhino Linings and continue research, development and manufacturing from their Richmond, MO facility. Additional terms of the acquisition were not released.
Visit http://www.rhinolinings.com, or call 858-450-0441 for more information about Rhino Linings brands and products.
About Rhino Linings Corporation
Rhino Linings Corporation, established in 1988 and headquartered in San Diego, California, is a privately-held corporation and world leader in protective coatings and linings. Products manufactured and distributed by Rhino Linings include polyurethane, polyaspartic and epoxy coatings, as well as concrete resurfacing and refinishing products, spray foam insulation and sealants. Rhino Linings Corporation has a global retail and industrial applicator network consisting of more than 2,000 independently owned businesses in almost 80 countries.