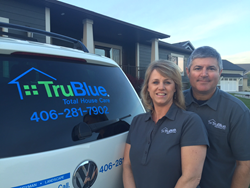 Billings, MT (PRWEB) May 18, 2015
Jason and Laura Quale are looking forward to helping busy families reclaim their weekends and making sure seniors can live comfortably in their homes through their new business, TruBlue Total House Care of Billings.
TruBlue Total House Care of Billings specializes in providing complete house care, including maid services, home improvements, home accessibility, and lawncare. By having one company take care of all these, home owners can save time on property maintenance and spend more time doing the things they love.
TruBlue Total House Care of Billings serves Billings, Laurel, Park City, Columbus, Red Lodge, Roundup, Huntley Project, Worden and Custer.
Before opening TruBlue Total House Care, the Quales co-owned a NAPA Auto Parts store in Eastern Montana and Laura worked for a local community college. The third-generation Montanans, with their three children, recently moved to the Billings area for more opportunities.
"We knew we wanted to be business owners again and we loved the idea of working with seniors, but we didn't want to be in home care. When we found TruBlue, it was a great fit. The services we offer are great for busy families, but they can also make a real difference for seniors who want to age in place but need some extra help caring for their homes and keeping those homes safe," Jason said.
TruBlue works with home owners, general contractors, and real estate professionals to maintain homes, improve curb appeal, and make final preparations to sell homes.
"Every property owner knows what it's like to deal with ongoing maintenance and repairs – especially when you need to get multiple quotes or when you're trying to schedule contractors. With TruBlue Total House Care, we take care of all of that for you so you can enjoy owning your home without all the stress," Laura said.
The Quales said their clients will quickly understand what sets TruBlue apart – customer service.
"People do business with people and that all starts with providing excellent customer service and understanding people's needs. Our trustworthy and dependable team is built around offering superior service to each and every client – regardless of the size of the job," Jason said.
To learn more about Trublue Total House Care of Billings, call (406)281-7902, email JQuale@TruBlueHouseCare.com or visit http://www.TruBlueBillings.com.
About TruBlue Total House Care
TruBlue gives you one convenient and affordable solution for all your house care needs. Your House Care Manager will take care of your entire home, inside and out, from maid services, household repairs, yard work, home accessibility – even emergency repairs and seasonal projects. Our affordable services are offered year-round and are customized to meet your needs and budget. We strive to provide affordable, worry-free living for seniors and hassle-free living for busy adults. Our goal is to eliminate the worries, hassles and headaches of home maintenance and to provide full-service, trustworthy house care services to fit any budget.