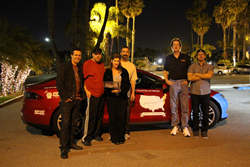 I was inspired by my grandfather who took me on road trips as a child and Alex Roy who broke the cross-country record in a gasoline vehicle in 2006.
VALENCIA, Calif. (PRWEB) May 14, 2015
The electric vehicle (EV) coast-to-coast world record was unofficially broken by Team Uber Qik with an elapsed drive and charge time of just 58 hours and 55 minutes. Drivers Rodney Hawk, Deena Mastracci and Carl Reese departed from Los Angeles City Hall in a Tesla P85D on April 16 at 11:41 p.m. PST and arrived at New York City Hall on April 19 at 1:36 p.m. EST, setting two new records for the fastest U.S. coast-to-coast time and least charging time in an EV.
Accompanied by witnesses and timekeepers, Anthony Alvarado, Matt Nordenstrom and Johnnie Oberg, Jr., Team Uber Qik, led by Reese, broke the previous EV U.S. coast-to-coast time record of 67 hours and 21 minutes set by a team from Edmunds.com in summer 2014. While the team broke two records during this trip, Guinness only recognizes the "least non-driving time to cross the U.S. in an electric vehicle," meaning the shortest amount of charging time. The team logged just 12 hours and 48 minutes plugged in at Tesla's growing network of supercharging stations conveniently located along major freeways and free to use for all Tesla owners.
"I was inspired by my grandfather who took me on road trips as a child and Alex Roy who broke the cross-country record in a gasoline vehicle in 2006," said Reese of Santa Clarita, California. "Tesla is such a compelling car company that is creating tens of thousands of American jobs, with Tesla Motors in Fremont, California, Giga Factory in Sparks, Nevada, and Space X in Hawthorne, California." Reese prides himself on purchasing products only made in the U.S., from shoes and clothing to the Tesla the team drove across the country.
Global fleet tracking company GPS Insight sponsored Team Uber Qik's record-breaking trip by providing the GPS tracking equipment necessary for third party verification, as required by Guinness Book of World Records. Other sponsors include InspectMobile.com, TeslaGrille.com and Chalkolot.com. The 691 horse-powered Tesla P85D used for the trip is owned by Reese and Mastracci. The team of timekeepers followed the drivers in a Chevrolet Suburban.
For more information about this record-breaking trip, contact Carl Reese at carl.reese(at)mac(dot)com. Follow the team's Twitter account, @EVRecordAttempt, for photos and updates. Please direct all media inquiries to Josie Hankey at 410-420-2001 or by email at josie.hankey(at)fallstongroup(dot)com.
About Team Uber Qik
Team Uber Qik set out on a mission to shatter previously set electric vehicle coast-to-coast records in April 2015 in a Tesla P85D. The team of six is comprised of three drivers, Carl Reese, Deena Mastracci and Rodney Hawk, and three witnesses and timekeepers, Johnnie Oberg, Jr., Anthony Alvarado and Matt Nordenstrom. Reese, Mastracci, Oberg, Jr. and Alvarado are all from Southern California. When he is not breaking records, Reese is a green contractor and certified home inspector. Mastracci owns chalkolot.com, a CeCe Caldwell chalk paint retail location in Santa Clarita, California. Alvarado owns Mighty Fine Auto Detailing in Los Angeles, and Oberg, Jr. is an actor. Hawk is a retired U.S. Army veteran from western Pennsylvania. A North Dakota native, Nordenstrom currently owns construction contracting company Nordenstrom Enterprises, LLC. To see photos from their record-breaking trip, follow @EVRecordAttempt on Twitter.
About CR Construction
Carl Reese is a certified home inspector, licensed general contractor and environmental specialist. His five-star rated company is dedicated to making your home energy efficient and safe. His construction company exceeds expectations with everything from thermal energy audits to testing the home for mold and formaldehyde. To learn more visit inspectmobile.com.
About GPS Insight
GPS Insight works with businesses that have fleets of vehicles and other mobile assets to solve unique business challenges through increased revenue, reduced costs and reduced risk. Our GPS fleet tracking software combines real-time robust functionality with a simple, intuitive userface. Monitoring and dispatching your vehicles has never been so easy. GPS Insight provides a highly flexible solution, which includes a wide range of customized reports, alerts and other innovative features that can be tailored to meet specific customer requirements to ensure maximum return on investment. Contact GPS Insight by phone at 866-477-4321 or visit http://www.gpsinsight.com for more information.
About TeslaGrille.com
While maintaining the aerodynamics and sleek coefficient of the car, this Limited Edition "California" aftermarket Tesla grille graphic is made with the industry's highest quality poly-coated material—UV, temperature, humidity and salt spray resistant with long-term removability.
About Chalkolot.com
Deena Mastracci is the owner of Chalkolot.com, a CeCe Caldwell chalk paint retail location in Santa Clarita, California.